#WK9 101: Kazuchika Okada "The Rainmaker"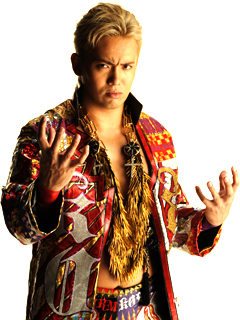 – UNDER THE DOME –
WK9 MATCH:
vs. Tanahashi
Twitter:
@rainmaker_chaos
Team:
CHAOS
Hometown:
Tokyo
Height:
6-foot-3
Weight:
235
Wrestling debut:
2004
NJPW debut:
2007
Greatest rivalries:
Tanahashi, AJ Styles
Greatest Dome match:
vs. Naito, Wrestle Kingdom 8 (2014)
Favorite moves:
The Rainmaker (short-arm lariat)
Significant achievements:
IWGP heavyweight champion (twice), 2012 & 2013 G-1 Climax Tournament champion, youngest G-1 Climax Tournament champion in history.
---
By Steve Te Tai
Okada's story: If you're building a roster for your "dream" promotion, look no further than Kazuchika Okada. He has all the ingredients of a franchise talent and future legend. The chiseled features of a movie star, an athletic physique, elite in-ring ability, a unique look, charisma to burn, and of course that "it" factor that draws all eyes to him.
He has crossover appeal in Japan, where he appears at various sporting events, talk shows, high-end fashion photo shoots, commercials for popular kids games and toys. And the best part is, he just turned 27, and is just getting started. He is one of the "Big 3" for New Japan along with Tanahashi and Nakamura, and one half of your main event for Wrestle Kingdom 9 live on pay-per-view in North America brought to you by Global Force Wrestling..
Like many of the top wrestlers in history, it was a character change that propelled Okada to superstardom. After several years spent as a classic "babyface" in the ring, Okada chose the Tokyo Dome as the site of his rebirth, and at Wrestle Kingdom 6 in 2012, "The Rainmaker" was born. The plain-looking wrestler now sported a bleached blond haircut and colorful attire, including his futuristic "Emperor's robe. But even more than the look, it was the personality that changed. Okada became this vain, arrogant, and cocky figure who stood arms outstretched while hundreds of custom-made "Rainmaker" $10,000 bills fell from the sky around him. Okada immediately joined the large heel stable CHAOS, and a month later he defeated Tanahashi to became the IWGP heavyweight champion.
Ever since WK6, Okada has "owned" New Japan with two reigns as IWGP champion and two G-1 Climax tournament championships. He will get the chance at Wrestle Kingdom 9 to win his fourth IWGP heavyweight title and regain his status as the top superstar in New Japan.
Okada is such a phenomenon that people bleach and cut their hair to look like him. His ring entrance with hype man Gedo and a giant animatronic raptor is something to behold.
But it always comes down to skill in the ring, and Okada has that, too. And this time the world will be watching.
Advertisement