#WK9 101: "Machine Gun" Karl Anderson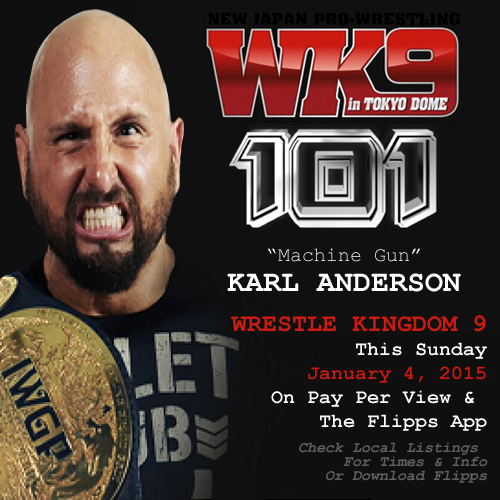 When "Machine Gun" Karl Anderson steps into the ring on Jan. 4 in the Tokyo Dome at New Japan Pro-Wrestling's Wrestle Kingdom 9, he will step into history.
Anderson will be making his seventh appearance at the Jan. 4 Dome show, tying the record of his former partner Giant Bernard for most appearances by an American wrestler, surpassing such legends as Scott Norton and Rick Steiner.
Not bad for a guy who was in his second year on baseball scholarship at Mars Hill (N.C.) University when he decided to leave school after watching MTV's "True Life: I Am A Pro Wrestler."
Seriously. The guy watched a one-hour documentary on a music network and threw away a full ride for a bumpy ride in the world of broken bones, broken promises and broken dreams.
"Look, I don't recommend leaving school," Anderson said. "I wanted to get a degree. But I also wanted to wrestle. Man, I just had to."
Anderson's brother taped the True Life episode for him. He watched it every day for weeks. He thought back on his days as a youngster idolizing Ric Flair and the Four Horsemen, of watching Flair battle the likes of Sting and Nikita Koloff, of watching his brother root aloud for the babyfaces while he kept his admiration for the heels to himself.
The wrestling school featured in the documentary was The Main Event Pro Wrestling Camp, located in Cincinnati and owned by former wrestler Les Thatcher.
"I thought it must have been the only wrestling school in the world, so I packed up and drove the 6½ hours away from my family [in Asheville, North Carolina] and enrolled there," Anderson said.
Anderson wound up training with Roger Ruffin in the Northern Wrestling Federation. He wrestled in high school gyms and recreation halls in Ohio, Indiana, Kentucky and Tennessee, and he figured his biggest payday in those days might have been $75. But the measly money didn't matter … much. He was a single guy in those days, and wrestling had locked onto him and wasn't going to let go.
He got his first break when he was doing an NWA show in Nashville in 2005. He was noticed by Dave Marquez, a scout for New Japan Pro Wrestling, which had opened a dojo in California. Maquez invited Anderson to come train at the facility, and Anderson thought about it for less time than it takes to score a pinfall.
"At least New Japan was a name. The facility was in Santa Monica. I lived in the dojo. I slept in the ring," Anderson said. "The WWE wasn't knocking. TNA didn't give me a shot."
His pal Fergal Devitt already had gone to Japan and signed with NJPW. Devitt encouraged Anderson to send a tape, telling him NJPW had a new booker.
"I figured why not. They wanted to book me for three months, so I went."
After his first match in Japan NJPW was so impressed it tore up his three-month contract and signed him to a one-year deal. It was a real job in a real wrestling organization for real money.
The year was 2008. NJPW had had its ups and downs, but Anderson believed it was about to enjoy a renaissance. He had come up with a few of the guys. He saw talent all over the place. So he did what he does. He went to work and quickly made his way up the ranks.
NJPW put him with Giant Bernard, aka Matt Bloom, aka Albert, aka Tensai. They formed the tag team "Bad Intentions," and it couldn't have gone better.
"I met him in my first match in Nagoya," Anderson said. "He had this big smile on his face, and he gave me high-five with a half hug.
"This was a guy I had watched, and he was so cool. A lot of veteran guys are so cold to younger guys. They frequently just don't trust new guys. He was good to me right away. He always helped me, and he asked for my ideas. When we started out as a tag team I was getting a lot of the wins, and he was great with it. He's such a cool brother. He taught me so much."
Bad Intentions won the IWGP tag team titles in June 2010 and held the straps for a record 564 days. They successfully defended the belts at Wrestle Kingdom 5 and lost them at Wrestle Kingdom 6.
Shortly thereafter Bernard returned to the WWE as Tensai, and within a couple of months Anderson and Devitt formed the Bullet Club, along with Bad Luck Fale and Tama Tonga.
These guys were genuinely best friends. They had trained together and lived in the dojo in Japan. They were all "gaijins," which is to say non-Japanese.
When Devitt decided to leave for the WWE, the Bullet Club didn't miss a beat. By then the Young Bucks had joined, and they already were friends with Anderson, who became the de facto leader of the group.
Then AJ Styles came on board.
"When I knew AJ was coming in … I mean, he's literally one of best wrestlers walking the planet, and he's a cool brother. It clicked almost just the same as with Devitt. And AJ won the IWGP heavyweight title pretty quickly. That's a big honor; not that many gaijins have ever held it."
The upward trend continues for the Bullet Club, and history is repeating itself for Anderson. He once again is one half of the IWGP tag champs, this time with Doc Gallows, whom he called "a younger Bernard." Their run will hit its one-year anniversary at WK 9.
As for his record-tying seventh appearance on the Dome show, the brash Anderson is humbled by it.
"When I first heard about it, it took a while to sink in," Anderson said. "It's really pretty cool. I hope to put it out there to 10 or 12 [Jan. 4] dome shows and really give the next guy something to shoot at."
Advertisement