#WK9 101: The Rivalry – Tanahashi -vs- Okada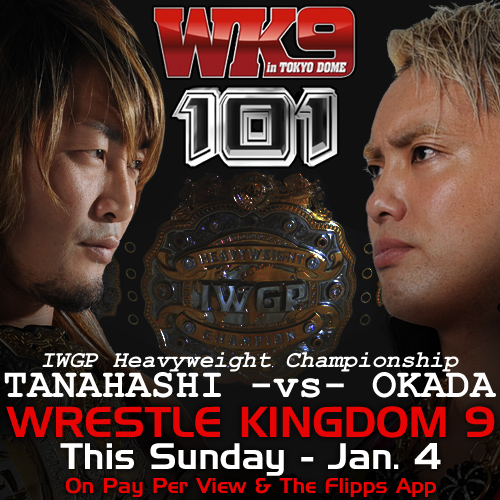 Wrestling rivalries tend to define entire eras in the business.
Mere mention of Bruno Sammartino-Larry Zbyszko, Dusty Rhodes-Harley Race, Ric Flair-Sting, Bret Hart-Shawn Michaels, Stone Cold-Rock and you're sent back in time, but you know exactly to where you're sent.
There is no hotter rivalry in New Japan Pro-Wrestling and probably in all of wrestling going on right now than Hiroshi Tanahashi and Kazuchika Okada.
The men aren't contemporaries. Tanahashi is 38. He is credited with reviving the entire Japanese wrestling industry over the past decade or so.
Okada is only 27. He bounced from NJPW to TNA back to NJPW before finally hitting stride and surging into the same stratosphere as Tanahashi.
To understand the feud between Tanahashi and Okada that will culminate at Wrestle Kingdom 9 (brought to the North American PPV audience by Global Force Wrestling and available on all major cable and satellite providers and via the Flipps app), you have to understand their history. It includes five IWGP heavyweight title matches over the past three years.
Match 1: Tanahashi vs. Okada.  Osaka Furitsu Gym.  Feb. 12, 2012
"Rise of the Rainmaker"
Okada spent his life dreaming about being IWGP heavyweight champion, but as he grew into adulthood he realized he wanted to be the "ace" in Japanese wrestling, like Tanahashi.  Being the "ace" is about more than just being the champion, it's about being the face or franchise of an entire era and company.
Tanahashi was the biggest superstar in Japan since 2009 when he defeated the Great Muta for the IWGP heavyweight title. The look, the hair, the outfits, the charisma, and the moves, he had it all.  Okada had the physical tools, but he knew he needed more.
At Wrestle Kingdom 6, Okada repositioned himself as the ultimate superstar, calling himself "The Rainmaker." Gone was the plain black trunks and ordinary look, replaced with colorful ring attire, a sci-fi emperor's robe, a unique new hairstyle and a whole new attitude.
No one knew what to make of it at first, and the next night he joined CHAOS and challenged Tanahashi for the IWGP heavyweight title.
Tanahashi accepted what seemed like an easy match compared to his recent victory over Suzuki in the Tokyo Dome.  But this match ended up as anything but an easy night.
While the match was a typical great Tanahashi world title match, the result was not typical.  Okada pinned Tanahashi with his new "Rainmaker" finisher, which is a particularly vicious version of a short-arm clothesline.  The reaction from the fans after this pinfall was similar to the Superdome after the Undertaker's streak was ended. Complete silence. Utter shock. Total dismay.
While people were still digesting this new "Rainmaker" persona, they suddenly had to accept him as the new champion. The fans were overwhelmed, and perhaps Okada was, too. No matter how much you visualize, plan, or dream of something, you can't really know what it will be like, until it actually happens.  And with the paint barely dry on Okada's reign as champ, he was thrust back into a rematch with Tanahashi.
Match #2:  Okada vs. Tanahashi.  Osaka Furitsu Gym.  June 16, 2012
"The Redemption Match"
Tanahashi was not prepared for Okada the first time. The champ felt the upstart was given a title shot far too soon in comparison to past challengers, but he had lost and regained the IWGP title before.
So Tanahashi did what he does best, wrestled an epic match and won the IWGP title for the sixth time. Things were back to normal for the reigning "ace," with cosmic order now restored.
And as the summer wound down, here was Okada, after all this planning and dreaming, right back in line with everyone else … 17 others in fact, in the form of the G1 Climax tournament. Two weeks of grueling round-robin action like a World Cup competition, ended with Okada, at 24, the youngest G1 Climax champion of all time, proving he was definitively one of New Japan's elite.
This incredible feat earned Okada a rubber rematch with Tanahashi, and the table was set for Wrestle Kingdom 7. Okada had his chance to show his incredible year was the start of something significant, and Tanahashi had a chance to show his February loss to Okada was indeed a fluke.
Match #3:  Tanahashi © vs. Okada.  Tokyo Dome.  Jan/ 4, 2013.
"The Rubber Match"
In their first Tokyo Dome encounter, Tanahashi and Okada put on what some consider their greatest match, and in the end, Tanahashi's hand was raised once again.
The humiliation Okada suffered is something that cannot be measured. This was the one-year anniversary of his return to New Japan as "The Rainmaker," and he now had lost twice in a row, including failure on New Japan's biggest stage, the Tokyo Dome. While fans and media recognized Okada's remarkable improvement, he was no Tanahashi.
Other talents might have accepted that Tanahashi was simply the better man. Instead, Okada went into a mode of cold, steely focus,and devised a secret weapon.
As the winter thawed, Okada entered his name into the New Japan Cup tournament. Since the winner was guaranteed a title shot, Okada devised a new submission, a STF/Camel Clutch combination he called the "Red Ink." With this new move, Okada tore through this 16-man single-elimination tournament and was not only the 2013 New Japan Cup champion, but was next in line to challenge Tanahashi.
After three grueling contests, Tanahashi had all the respect in the world for Okada, but felt he was still superior and had proven that in the Tokyo Dome.  Their next match would be his chance to put Okada away forever.
Match #4:  Tanahashi vs. Okada.  Tokyo Sumo Hall.  April 7, 2013.
"The Red Ink Match"
Tanahashi didn't have a counter for the "Red Ink," and while he never tapped out, Okada sapped his energy with that move in this match, and Okada defeated Tanahashi for the first time in more than a year.
Suddenly Tanahashi was the one who felt overwhelmed. Doubt crept in, and for the first time in his career Tanahashi felt old.
Meanwhile, Okada learned a lot in 2012, about himself and about what it takes not only to win the title but to be the champion.  Okada went on a tear in 2013 with an incredible series of matches against New Japan's top dogs, and he showed everyone the future was now.
Tanahashi had to know if he still had it, or if Okada really was the new "ace" for Japanese wrestling.  It took Tanahashi six long months to finally earn a rematch, and now the tiebreaker was on.  Okada had won twice, and Tanahashi won twice. An almost two-year long rivalry was set to come to an end with the final match of the series, to determine who was the better man, and who really was the "ace" of New Japan.
Match #5: Okada vs. Tanahashi. Tokyo Sumo Hall. Oct. 14, 2013
"The Final Match"
If there is such thing as a perfect match, this was it, as Okada defeated Tanahashi for the last time, extending his yearlong roll. With this win, Okada erased any doubt who was the greatest wrestler and the greatest superstar in Japan, and he even was endorsed officially by New Japan Pro-Wrestling, as its "ace."
Tanahashi was thoroughly humbled by this loss, accepting that his time was done. As the ultimate concession and sign of respect, Tanahashi vowed never to challenge Okada for the IWGP heavyweight title again, and he announced his intention of pursuing the IWGP intercontinental championship, held by Nakamura, at Wrestle Kingdom 8. Okada gladly accepted this gesture as the ultimate endorsement to the fans of NJPW, and he was quite pleased never to have to worry about Tanahashi again.
The people have spoken
As the "ace" of New Japan, Okada proudly anticipated carrying the entire show, defending the IWGP heavyweight title against anyone but Tanahashi. But then NJPW did something unusual. It gave fans the choice of picking which match from WK8 would go on last as the "main event." The poll ran through the fall and winter in Japan, and in a landslide Tanahashi's match with Nakamura for the intercontinental title was chosen to be the main event at the Tokyo Dome, with Okada's first Tokyo Dome title defense of his career (against Naito) on the undercard.
Okada was furious, and CHAOS did everything it could to get this changed. But NJPW held firm and stood by the wishes of the fans, and Okada was forced to defend the IWGP title, his first IWGP title defense ever in the Tokyo Dome, underneath Tanahashi's match for the intercontinental belt, a title people were openly saying was now the top title in New Japan.
Okada couldn't understand or comprehend why he was not afforded the same level of respect and honor as Tanahashi. He felt betrayed by New Japan and undercut by Tanahashi. And worse yet, he could not even take out his frustration on Tanahashi, because he was in a separate division entirely, and the IC champ does not wrestle the heavyweight champ. So Okada retained the IWGP heavyweight title on Jan. 4, 2014, in what should have been a career moment. Instead, he sat alone in an empty Tokyo Dome locker room, as every single wrestler walked right by him to watch Tanahashi defeat Nakamura in the "main event."
This was the point where things became intensely personal, and it was this shift within Okada that proved his downfall. Okada never got over the "snub" from the fans and from New Japan officials. He was not the same and lost his focus as champion and became obsessed and sloppy. On a fateful night in May, Okada allowed himself to be jumped by the new power rising in the Bullet Club, when AJ Styles was revealed as the newest member and challenger for the IWGP crown. And just like Tanahashi was not prepared for a reinvented "Rainmaker" in February 2012, Okada had no idea what the new AJ Styles was capable of, and lost the IWGP Heavyweight title in their first match.
Rematch after rematch, AJ Styles and the Bullet Club were victorious. Okada attempted a half-hearted feud with CHAOS against the Bullet Club, but he realized something wasn't right with him and pulled out.
Okada refocused on Styles and the IWGP heavyweight Championship, and just like in 2012, he won the 2014 G1 Climax tournament in August, even beating Styles in the process to win the IWGP title shot at Wrestle Kingdom 9. The world would belong to him again, and his obsession and bitterness with Tanahashi was behind him. It was all about Styles and the IWGP heavyweight title.
Meanwhile, Tanahashi had lost the IC title back to Nakamura. He now was watching Styles and the Bullet Club run roughshod over the New Japan that he rebuilt over the past eight years.
A year earlier he stepped aside for Okada, who had completely failed to stop Styles and the Bullet Club from making New Japan look weak. So on Oct. 13, 2014, Tanahashi, unlike Okada, overcame the interference of the Bullet Club and defeated Styles for his seventh IWGP heavyweight championship, which leads us to Wrestle Kingdom 9.
Match #6. Tanahashi vs. Okada. Tokyo Dome. Jan. 4, 2015
Tanahashi kept his word and never challenged Okada as champion, but life happens, the roles have been reversed, and here we are staring at Match #6, their first match in more than 14 months.
In his run with the intercontinental title, Tanahashi learned one thing; that as fulfilling as it was, his thirst and desire to be the IWGP heavyweight champion was far greater. Being the man is being the man, and when you are the man you carry the IWGP heavyweight belt. Tanahashi feels he built this house, and he'll carry the banner for New Japan as long as he has breath.
Tanahashi has legitimate claim to being the greatest champion in New Japan history. His seven IWGP world title reigns are the most for any wrestler. On Oct. 15 he passed the Great Muta's record of 1,238 days as champion, and he already has more IWGP heavyweight title PPV defenses than anyone with 27. WK9 also marks his ninth Tokyo Dome main event, more than any wrestler or MMA fighter.
Despite these accolades, the question remains, can he beat Okada again? The last time he pinned him was October 2012, and since then Tanahashi is moving towards the wrong end of 30, and Okada has done nothing but improve in the ring. Tanahashi is the champion now, but how tight is that grip? He felt he did the right thing by stepping aside for Okada, but deep down was it fear that wrestling Okada was a battle he couldn't win?
Okada was so obsessed with Tanahashi that he lost focus and lost the IWGP belt, and then Tanahashi had the audacity not only to steal his main event from him at Wrestle Kingdom 8 but followed that up by stealing his IWGP title from Styles. If Okada wins, he will take a 4-2 lead over Tanahashi, and there's no way Tanahashi would get another rematch. o guarantee victory, he is repeating the same tactic he employed in spring of 2012 by boasting of a brand new finishing move he will debut against Tanahashi at WK9.
Okada feels disrespected by Tanahashi, the fans and New Japan, and he is looking to prove everyone wrong. Tanahashi feels Okada is not worthy of being the "ace" because, while he has all of the physical tools, he lacks the greater responsibility of the role.
Okada is obsessed with destroying Tanahashi. Tanahashi is obsessed with being the best.
Something has to give.
Advertisement