WK9 101: The Tag Teams of NJPW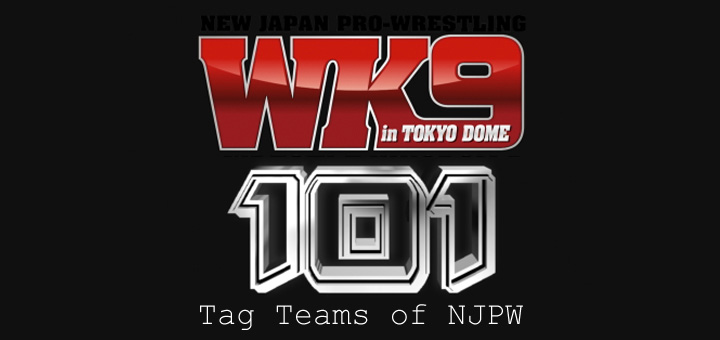 By Steve Te Tai
Tag teams have always been an integral part of pro wrestling, and while the emphasis has lessened in the United States in the past 15 years, New Japan Pro Wrestling has continued to embrace that institution.
NJPW has two different tag championships and even features two major annual tag-team tournaments.
What Japan does differently from America is that there have been pure tag teams such as the Road Warriors, Steiners, Gedo & Jado, but the top singles stars such as Tanahashi, Okada, Fujinami, Jushin Liger, Tenzan and everyone else regularly compete in tag-team matches. And not as a special one-night-only teams for a weekly TV show but will go on extended runs, even challenging for the tag belts, which are just as prestigious as the singles titles in Japan.
The strong tag-team tradition continues to this day, and Wrestle Kingdom 9 will showcase some of the best tag teams in the world, including a four-way elimination match for the IWGP Junior Heavyweight tag team titles in a bout with ROH's ReDRagon defending against the Young Bucks, Time Splitters and Forever Hooligans.
Young Bucks.  The embodiment of everyone's annoying little brothers. You want to strangle them, but they're too busy having a superkick party … on your face.  For years Matt and Nick Jackson battled criticism that they were too much like the Hardys, their fringed tights were "too '90s," they looked too young and wholesome. At some point they stopped fighting their critics and turned it to their advantage.  Since then, the youngest members of the Bullet Club have been on a world tour of pissing everybody off. They are the ultimate representation of rebellious youth, and one of the most athletic duos in all of wrestling.
Time Splitters. If you want to see the future of wrestling, look no further than the aptly named "Time Splitters."  Alex Shelley was part of a magnificent tag team with Chris Sabin in the "Motor City Machine Guns," he went to Japan and found Kushida, and the Splitters have since become one of the premier tag teams in all of wrestling. To further illustrate their tongue-in-cheek homage to "time travel" they even came to the ring in a 1985 DeLorean at last year's Wrestle Kingdom.
Forever Hooligans.  Rocky Romero and Alex Koslov are your classic modern age mercenary wrestlers, having competed separately and together in Mexico, Japan and all around the world, and have found a home in the CHAOS faction of New Japan. They are a fast-paced team looking to regain the IWGP Junior tag team belts.
ReDRagon.  Kyle O'Reilly and Bobby Fish of Ring of Honor wasted no time making their mark in NJPW, beating the Young Bucks to win the 2014 Super Junior tournament this summer. In November they defeated the Time Splitters to become the IWGP junior heavyweight tag team champions.
Other teams set to compete at WK9:
Gallows and Gun. No team has had a better year than "Machine Gun" Karl Anderson and Doc Gallows of the Bullet Club. They won the 2013 World Tag League Tournament which gave them a shot at the IWGP world tag team champions at Wrestle Kingdom 8 last year. They took advantage of that opportunity by defeating the "Killer Elite Squad" in the Dome and have ruled the tag team ranks ever since. They look to retain the IWGP belts at WK9, to celebrate a one-year anniversary as the top force in tag team wrestling.
Shibata & Goto.  These two were rivals, literally since the wrestling team in high school. They constantly tried to outdo the other's accomplishments for their entire pro wrestling careers, until finally facing off with an intense series of matches in 2013. The rivalry culminated in a showdown at last year's Wrestle Kingdom, where Goto defeated Shibata, ending their rivalry. In the wake of this emotional feud, the friendship of their youth was rekindled, and they formed a new tag team. Shibata and Goto are two of the biggest singles stars in Japan and are looking to make history at WK9.
Hiroyoshi Tenzan & Kojima  While Tenzan has had success with many superstar partners such as Masa Chono, his best combination has been with Satoshi Kojima known as "Tencozy." Tenzan and Kojima have held the IWGP tag titles five times since 1999 and are the only team to win New Japan's World Tag League tournament as well as All-Japan's major tag team tournament.  Both are veteran superstars as singles, with Kojima holding All-Japan's top title, at the same time Tenzan was the IWGP heavyweight champion. Reunited at WK6 in 2012 these ring veterans have been feuding with the Killer Elite Squad this past year.
Killer Elite Squad (KES). Davey Boy Smith Jr. has competed all over the world and was a WWE tag team champion with Tyson Kidd as the "Hart Dynasty." He is the nephew of Bret Hart and son of the "British Bulldog" Davey Boy Smith. His father and the Dynamite Kid formed one of the top tag teams in New Japan in the early '80s, and 30 years later Davey Boy Smith Jr carries on that tradition, teaming with former WWE and TNA superstar Lance Archer.  While both men traveled the wrestling world for years, the KES has really brought the best out of these two.
Advertisement