WK9 101: The Exotic Characters of NJPW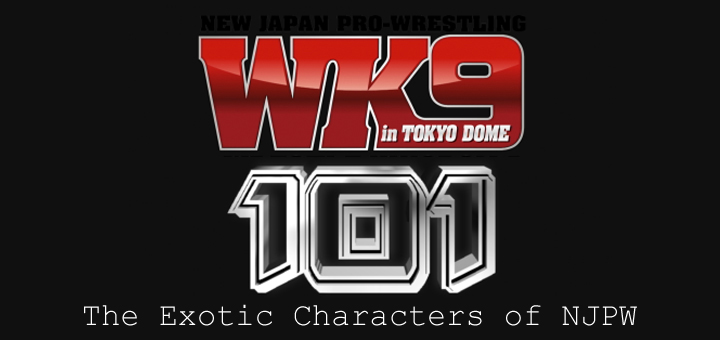 By Steve Te Tai
We already know how Tanahashi and Okada look like the hero and villain from a big budget sci-fi movie, but New Japan has many interesting-looking wrestlers, extreme personalities, and an overall "cast of characters." Nobody combines that feeling of a comic book come to life with the intensity of a sporting event quite like NJPW, and that's because of the great assemblage of unique talents who will be on full display at WK9.
Here are some for Global Force Wrestling fans to keep an eye on:
Minoru Suzuki. If you could shave a pit bull and teach him how to walk on two legs you'd have Minoru Suzuki. With a mug like a catcher's mitt and a haircut that only the toughest man walking could pull off, there never has been a character in wrestling quite like him. Suzuki was one of the pioneers of Pancrase (MMA) along with Ken Shamrock, Bas Rutten and Frank Shamrock, before going to New Japan after a full career of fighting. The New Japan icon and leader of the Suzukigun faction will put his fighting legacy on the line against Sakuraba in a special KO or submission only match, in the most amazing Pancrase vs. Pride showdown the Tokyo Dome will ever see.
Captain New Japan.  As serious and dramatic as New Japan wrestling can be, they also have a sense of humor, and that's where the unofficial "mascot" for NJPW came from. He dresses as an NJPW version of Captain America, who has entertained fans for years with his hilarious "special effects" entrance that looks straight out of a late night talk show.
Everyone who knows wrestling knows about Samoans, but if there were ever a people more violent and brutal than Samoans, it's their Pacific island neighbors from Tonga …
Bad Luck Fale.  This 6-foot-5 monster was kicked out of the Tongan Islands and sent to the mean streets of Auckland — the same hard streets that produced UFC fighters Mark Hunt and James Te Huna. The "Underboss" brings that gang mentality learned as a youth to the Bullet Club, and is one cool customer you do not want to mess with.
Tama Tonga. He is the son of legendary toughman and monstrous Polynesian Haku (aka Meng). Tama Tonga brings a ferocity and tenacity illustrated perfectly by one of the most unique face paint designs in all wrestling.
Now imagine if Batman or Spider-Man wrestled America. That's what happened in New Japan … twice!
Tiger Mask was a classic Japanese comic book character from the 1970s, when they decided to create a real-life version in wrestling.  Satoru Sayama was chosen for this role, and was so skilled and talented that Tiger Mask not only became a national phenomenon but revolutionized the industry at that time. He basically invented the modern aerial style of wrestling.  And when Sayama retired in the mid-80s, the mantle of "Tiger Mask" was given to future legend Misawa. This was a mantle passing that the fans were fully aware of, like Christian Bale passing the Batman cowl to Ben Affleck.  When Misawa felt the time was right, he gave up the "Tiger Mask" persona and another assumed the title. The current and longest reigning Tiger Mask, Yoshihiro Yamazaki, who was actually trained by Satoru Sayama for this role, (like Bruce Wayne training Robin), will continue the long legacy of Tiger Mask in front of a worldwide audience at Wrestle Kingdom 9.
Jushin "Thunder" Liger.  Keeping in mind this is the country that created Dragon Ball Z, the Power Rangers and Voltron makes the phenomenon of Jushin Liger a no-brainer. Just as a previous generation saw Tiger Mask become a top star in Japan, they struck gold again in the '90s, bringing popular anime superhero Jushin Liger to life in the rings of New Japan. And like Sayama, his performance transcended the character, and Jushin "Thunder" Liger become possibly the greatest and most influential high-flying wrestler. But unlike Tiger Mask, the man under the Liger mask has been the same all this time, and while not capable of flying as high as he used to, has adapted his style to maintain his status as one of the most important legends at Wrestle Kingdom 9.
Togi Makabe. "The Unchained Gorilla" is NJPW's premier hardcore brawler. Like most Japanese, he idolized Bruiser Brody as a youth and pays tribute to the legendary wrestler with the chain he wears, his entrance, his wrestling style, and his "King Kong Knee Drop." In an ironic twist,that shows you what true characters these NJPW wrestlers are, Makabe is known throughout Japan as the wrestler with an insatiable love for sweets and cakes. He even makes regular appearances on the Japanese equivalent of "Good Morning America" because of it. Makabe will face Ishii from "Chaos" at WK9.
Red Shoes. All great sports have those classic referees such the NWA's Tommy Young, the NFL's Ed "Hercules" Hochuli, Mills Lane from boxing, and in wrestling, the most popular referee is New Japan's Hiroyuki Unno, affectionately known internationally as "Red Shoes." The most popular referee in Japan is the man who wears the red shoes and has no tolerance for chicanery, shenanigans, or tomfoolery.
Iizuka.He is a crazed madman who wears a giant metal glove.  'Nuff said.
Advertisement