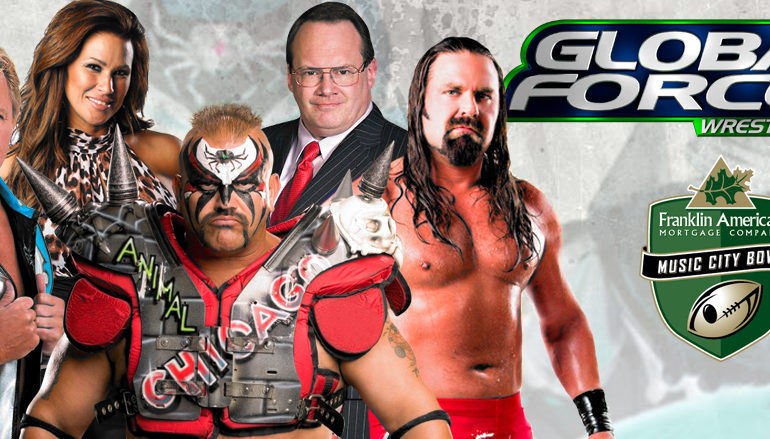 Road Warrior Animal, Jim Cornette part of GFW Music City Bowl event
The Nebraska Cornhuskers and Tennessee Volunteers will be treated to a night of bowl entertainment unlike any other on Wednesday, Dec. 28 when they attend a private Global Force Wrestling show as part of their itinerary for the 19th Annual Franklin American Mortgage Music City Bowl.
GFW is the first wrestling promotion ever to partner with a bowl game.
GFW founder and CEO Jeff Jarrett has a special card planned, including appearances by wrestling legends Road Warrior Animal and Jim Cornette. In addition to the players and coaches, some wounded veterans from the Tennessee National Guard Military and Family Readiness Operations J9 have been invited. They also will be guests at the game and be honored on the field before the playing of the National Anthem.
"We couldn't be more excited for this event, and having the home-state Vols here and matching up against a great program like Nebraska makes it even more special," said Jarrett, a Hendersonville native. "We plan to give the players, coaches, team officials and wounded veterans a night that will get them truly involved and rooting for their favorites like fans will be for them at the 19th annual Franklin American Mortgage Music City Bowl on Dec. 30 at Nissan Stadium."
The game, which kicks off at 2:30 p.m. Central on Friday, is approaching a sellout.
"We pride ourselves on giving each team that comes here a memorable experience," Franklin American Mortgage Music City Bowl President and CEO Scott Ramsey said. "Professional wrestling is something unique to our bowl game, and we believe it's something the players are really going to enjoy. Thanks to Jeff Jarrett for his willingness to help us create this special event."
Advertisement