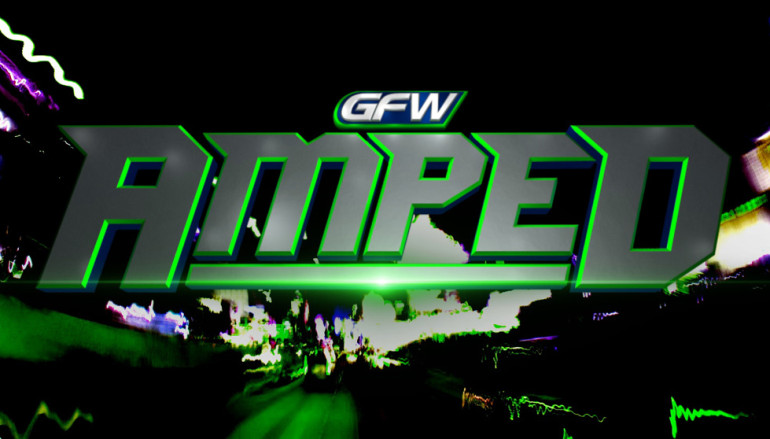 Preview for GFW "Amped" television taping – this Friday in Las Vegas!
by Joe Dombrowski
@joe_dombrowski
With the eyes of the wrestling world just hours away from focusing in on the Orleans Arena, it is a time for Global Force Wrestling's athletes, and the GFW organization as a whole, to set the bar. There is only one chance to make a first impression. Some find themselves on a grand stage for the very first time and others have re-invented themselves and look to show the world what they are truly capable of. Each man and woman's journey will intersect in Las Vegas, as we all collectively make history. Fans and insiders alike will look back at this event for years to come as a dawn of a new era and the beginning of a new vision taking shape. Who will walk out of Las Vegas as the talk of Global Force Wrestling? How far will each athlete go to get there?
Let's preview the announced card as it stands:
​GFW ​Global Championship Tournament
Brian Myers (formerly Curt Hawkins) vs. Chris Mordetzky (formerly Chris Masters)
Two men who have long since been labeled as "underrated" finally receive their long-awaited opportunity to showcase their skills with a spotlight upon them. For Chris Mordetzky, his path began as perhaps "too much, too soon", but his critics only served to light a fire underneath him, leading to him traveling the world to hone his craft, and improve at a staggering rate. Mordetzky may have once been known mainly for his physique, but he now sets out to prove that his wrestling skills will be the catalyst to creating his ultimate masterpiece. Brian Myers, the self-described "Prince of Queens" fights for validation of his own. A man consumed by this business, who spends every day of his life inside a wrestling ring, Myers is searching for a career-defining moment after years of countless sacrifice. Two men on the verge of a breakout performance, but only one can become one step closer to making history as the first ever ​GFW ​Global Champion.
​GFW ​Global Championship Tournament
Bobby Roode vs. ​Kevin Kross
Bobby Roode's moniker of "The It Factor" says it all. From his early days in Team Canada studying under Coach Scott D'Amore to his reign as the longest-running TNA World Champion of all time, Bobby Roode has consistently out-worked and out-performed all other contenders. Roode describes his own journey to GFW as "selfish", saying his 17-year-career has been spent constantly thinking about one goal… World Championships… no matter where they may reside. Roode's track record, determination, and cunning nature make him an early favorite in the ​GFW Global Championship Tournament. However, that fact is something that drives Kevin Kross. This 6'4 270-pounder considers it laughable that many are already dismissing his tournament chances due to being matched up against Roode in the opening round. Kross is a dangerous striker with international experience. He is known as "The Tollman" due to his ability to make opponents pay a price. Will Bobby Roode be forced to pay the most valuable price and lose his chance at GFW Global gold?
​GFW ​Global Championship Tournament
Kongo Kong vs. Nick Aldis (formerly Magnus)
Nick Aldis made headlines around the world with his decision to #JoinTheForce, not just for his decision to part company with his prior employer, but also because of the track record he brings. From his World Title reign to his pinfall victory over Sting, we have watched Aldis grow up as a competitor before our eyes into, on paper, one of the biggest odds-on-favorites of the ​GFW ​Global Championship Tournament. One may look at Kongo Kong in the ring at face value and assume him to be a wild and untamed behemoth, a brute without the brain to maximize his potential. But there is a very intelligent and calculated mind hidden beneath the facepaint. At nearly 7′ tall and upwards of 400 lbs., Kong has the might AND the mind to be a champion. Deceptive agility, awe-inspiring power, and the advantage of intimidation has given Kongo huge success on the independent level. Will Kongo squash the buzz behind Nick Aldis or can Aldis look into the face of danger and emerge victorious?
​GFW ​Tag Team Championship Tournament
The Bollywood Boyz vs. The Akbars
The Bollywood Boyz, Gurv & Harv Shira, have spent ten years dedicating their lives to the craft of tag team wrestling, a journey that has taken them throughout Canada and into India for the Ring Ka King organization. The Akbars have made comments that have resonated with some and caused controversy with others. Speaking openly and honestly about their opinions of how their ethnicity has served as a handicap throughout their careers and lives, the Akbars come to GFW to make that first impression, to show what they can do on that level playing field, and achieve the glory they feel they have earned. Both teams have dedicated years to earning this opportunity. There will be no fly-by-night tandems and no make-shift teams; the art of tag team wrestling will be on full display as two different cultures, wrestling styles, and tag team specialists compete for the chance to become the first GFW Tag Team Champions.
​GFW ​NEX*GEN Championship Tournament
PJ Black (formerly Justin Gabriel) vs. Seiya Sanada
PJ Black is the "Darewolf" because he quite simply knows no fear. Whether its bungee-jumping, surfing, or his high-octane ring style, PJ is all about "the adrenaline rush". There will be no shortage of excitement and adrenaline in the NEX*GEN division, which promises to be full of risks for anyone who enters the division. PJ's first risk will be his match with Sanada in the NEX*GEN Championship Tournament. Sanada has been mentored by one of the most influential and noteworthy risk-takers in professional wrestling history, The Great Muta, and brings that same fearlessness and athleticism into each battle he wages. Will Sanada prove to be too big of an obstacle for PJ Black or can the Darewolf use this test to springboard to new heights?
​GFW ​NEX*GEN Championship Tournament
Jigsaw vs. Sonjay Dutt
Sonjay Dutt has as much heart and passion in the ring as anyone in the industry today, but is another athlete that can be looked at perhaps as someone who has yet to receive his just due. Without question, he was one of the most prolific​ members of TNA's "X Division" and perhaps the most prolific to never capture the X-Division Title. That will no doubt serve to motivate Sonjay further to achieve that major title victory to be remembered for years to come. Jigsaw is a wrestling riddle, not just by name but by style. Jigsaw's upbringing in wrestling allowed him to not only travel the world, but learn and perfect maneuvers from all over the globe right at home, studying under some of the most proficient mat masters in virtually every style imaginable. Both are indicative of exactly what the NEX*GEN division is all about – young and hungry world-traveled competitors who are primed and ready to break from the pack and shoot to the top of any wrestling card they appear on. Who of these two very deserving competitors will make it to the next step of the NEX*GEN Championship Tournament?
​GFW ​Women's Championship Tournament
Christina Von Eerie vs. Mickie James vs. Lei'D Tapa
It's difficult to see any women's championship in professional wrestling and not think of Mickie James. The most decorated female performer of her era, Mickie is the only woman to ever hold the WWE Women's, WWE Divas, and TNA Knockouts Championships in the course of her career, totaling 9 reigns between the three titles. There is not a top women's wrestler of the 21st century that hasn't opposed Mickie at one point or another. If you think that makes her the easy favorite here, think again. Lei'D Tapa may be the most physically imposing female wrestler in the world today. With dominating size and power, her ability to inflict pain and suffering is very reminiscent of legendary uncle – former Power of Pain and Face of Fear … none other than The Barbarian. Christina Von Eerie is counter-culture, with a punk mentality through and through and is never afraid to get into a fight. There are three very diverse personalities but will are already helping shape the GFW Women's division into one of the most talked about in wrestling.
Lucha Libre Action On Hand!
Lucha Libre action has a storied history in the United States dating back several decades, and one can look back through history and notice a well-defined influence from Lucha Libre culture in many of the most successful promotions and eras in the history of U.S.-wrestling.  GFW is proud to bring this element to our events. GFW will play host to luchadores such as Bestia 666 who, while still in his 20s, has a lifetime of experience, as he is the son of the legendary luchador Damien 666. However, others stars such as Phoenix Star & Zokre, who have extensive experience teaming, and are even former NWA World Tag Team Champions, and young veteran Misterioso Jr, will be looking to amaze Global Force Wrestling fans just as they have amazed fans south of the border for years. One thing is for sure, when any combination of these athletes meet, it will be a spectacle unlike anything else in Global Force Wrestling.
Make sure to join us in person, witness these first impressions, and be a part of history
this Friday
at the Orleans Arena in Las Vegas!
Tickets are available at the box office or just click here to purchase tickets online.
Advertisement