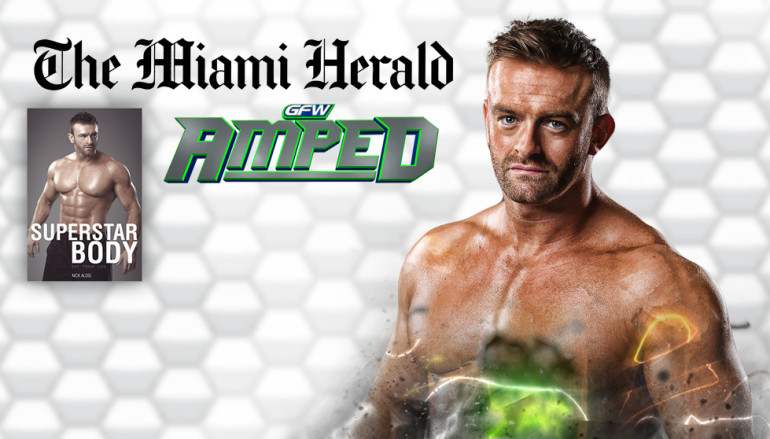 Nick Aldis is 'Amped' about GFW and his new book 'The Superstar Body'
Nick Aldis is doing tons of media to promote Global Force Wrestling's first-ever TV tapings this Friday night in Las Vegas (CLICK HERE for the match card and ticket info).
Aldis is one of the many stars that will be in action as GFW begins the Global Championship tournament. Scott Fishman of The Miami Herald has a new article up for The Miami Herald where he talks about GFW and Aldis' new book 'The Superstar Body: Real-World Techniques for Achieving Your Goals.'
The book is available now at Amazon at this link.
Here is the synopsis of the book:
A pro wrestler offers his unique, winning combination of physical bodybuilding techniques, mental outlook, and health awareness
Half instructional, half motivational, this guide describes what it takes to make your body into a vehicle for success. Nick Aldis—better known as Magnus from TNA Impact Wrestling, formerly "Oblivion" from Sky One's Gladiators—takes you through his life and career, focusing on how he's achieved a body that is in great balance in terms of functionality, health, and aesthetics for his needs. As the first ever British professional wrestling champion in a major global promotion, Nick explains how his passion for working out helped him achieve his goals—and how you can do the same. Most fitness books are either about bodybuilding or weight loss. The Superstar Body explains the core principles of both, looking at healthy foods and supplements, nourishing yourself mentally as well as physically—and how to maintain a healthy, athletic, attractive body with real world techniques.
Check out Scott Fishman's article on Aldis by clicking here.
Advertisement