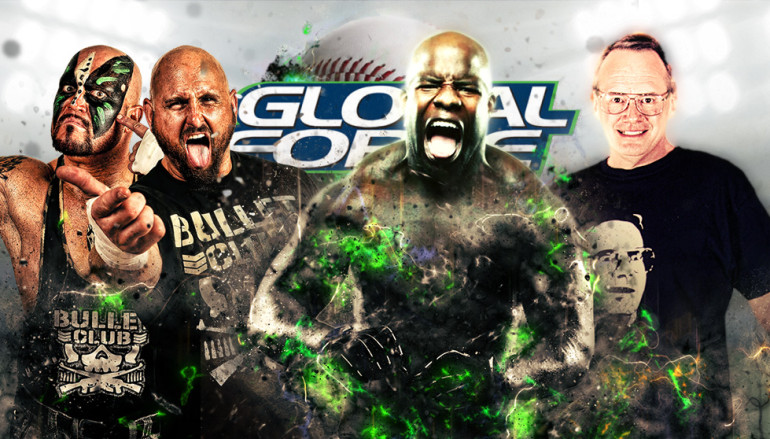 Jim Cornette, Jeff Jarrett, The Bullet Club, Moose, Chris Mordetzky, & many other names help kick off GFW's first shows this weekend
The first-ever Global Force Wrestling live events take place this weekend in Tennessee! The first show takes place at the home of the Jackson Generals. Several names will be there including: Jeff Jarrett, Jim Cornette, The Bullet Club, Moose, Sonjay Dutt, Thea Trinidad, and Chris Mordetzky. Check out the lineup for Jackson, TN in the video below:
Friday, June 12 – Jackson, TN – The Ballpark At Jackson – 7:30PM CT
– TICKETS: https://www.ticketreturn.com/prod2/Buy.asp?EventID=146314
Jackson, TN Meet and Greet
Jeff Jarrett, Karen Jarrett, Jim Cornette, Doc Gallows, Karl Anderson, "Bullet Babe" Amber Gallows, Chris "The Adonis" Mordetzky, Thea Trinidad, Dustin Starr
---
Global Force Wrestling heads to Knoxville, TN on Saturday night. Knoxville has a rich history of professional wrestling and we couldn't think of a better place to kick off the first weekend of Global Force Wrestling action. Chris Mordetzky, Sonjay Dutt, Thea Trinidad, Moose, The Bullet Club, Jeff Jarrett, and special guest Jim Cornette will be there! Watch the video below for more on the show lineup.
Saturday, June 13 – Knoxville, TN – Smokies Stadium – 7:30PM ET
TICKETS: https://www.ticketreturn.com/prod2/Buy.asp?EventID=146378
Knoxville, TN Meet and Greet
Jeff Jarrett, Karen Jarrett, Jim Cornette, Doc Gallows, Karl Anderson, "Bullet Babe" Amber Gallows, Chris "The Adonis" Mordetzky, Thea Trinidad, Devin Driscoll
Advertisement