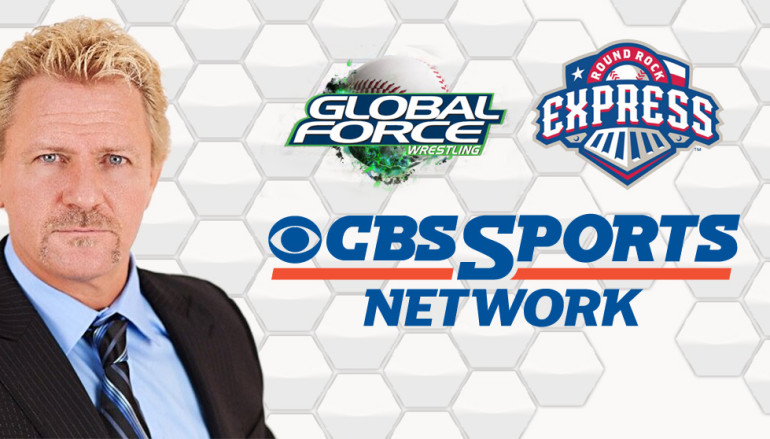 Jeff Jarrett to appear at tonight's MiLB Game of the Week on CBS Sports Network
Tune in the CBS Sports Network tonight to see the visiting El Paso Chihuahuas take on the Round Rock Express. Jeff Jarrett will be on hand to throw out the first pitch before the game and he will be on commentary to promote the Global Force Wrestling GrandSlam Tour.
CBS Sports Network is available on DirecTV channel 221, Dish Network channel 158, AT&T U-Verse channel 413 (SD) and 1643 (HD), Comcast 733 and 393, and Time Warner Cable channel 315.
Updated list of Global Force Wrestling live events:
6/12 – Jackson, TN – Jackson Generals
Tickets on sale – http://globalforcewrestling.com/jackson-tn
6/13 – Knoxville, TN – Tennessee Smokies
Tickets on sale – http://globalforcewrestling.com/knoxville-tn
6/20 – Jackson, MS – Mississippi Braves
Tickets on sale – http://globalforcewrestling.com/jackson-ms
6/21 – Bowling Green, KY – Bowling Green Hot Rods
Tickets on sale – http://globalforcewrestling.com/bowling-green-ky
7/9 – Appleton, WI – Wisconsin Timber Rattlers
7/10 – Erie, PA – Erie SeaWolves
7/11 – Lake County, OH – Lake County Captains
7/24 – Las Vegas, NV (TV Taping)
Tickets on sale – http://globalforcewrestling.com/las-vegas-nv/
8/21 – Las Vegas, NV (TV Taping)
Tickets on sale – http://globalforcewrestling.com/las-vegas-nv-2/
8/22 – Reno, NV – Reno Aces
8/28 – Harrisburg, PA – Harrisburg Senators
8/29 – Richmond, VA – Flying Squirrels
9/3 – Waterloo, IA – Waterloo Bucks
9/4 – Cedar Rapids, IA – Cedar Rapids Kernals
9/5 – Clinton, IA – Clinton LumberKings
9/25 – Corpus Christi, TX – Corpus Christi Hooks
9/26 – San Antonio, TX – San Antonio Missions
9/27 – Round Rock, TX – Round Rock Express
10/23 – Las Vegas, NV (TV Taping)
Tickets on sale – http://globalforcewrestling.com/las-vegas-nv-3/
Advertisement