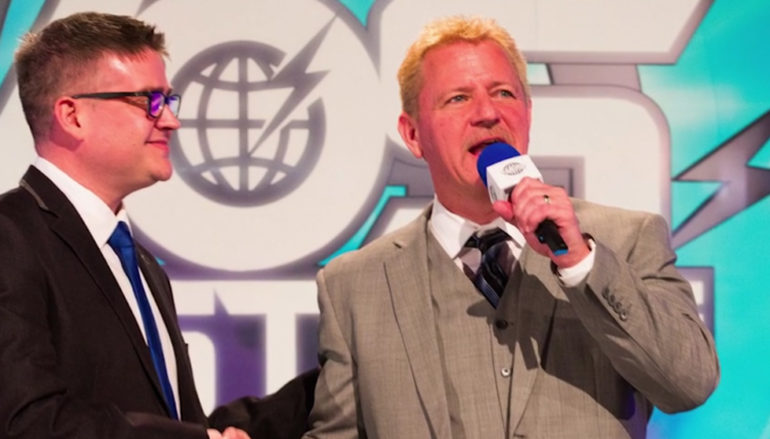 Jeff Jarrett tells Daily Mirror: 'WOS Wrestling will be a full-on promotion'
WOS and IMPACT held a joint press conference on Monday at TV studios in Media City in Manchester to announce the details on the WOS Wrestling revival. Jeff Jarrett announced that the plans are to launch a "full-on wrestling promotion" with iTV. WOS has been greenlit for 10 episodes. Those epiosdes will be taped over two nights at Preston Guild Hall on May 25 and 26. Tickets will go on sale on April 7.
Anthem Sports & Entertainment Executive Vice President Ed Nordholm and Tom Mclennan, ITV Director of Entertainment at ITV Studios Manchester, were present at the press conference alongside WOS Champion Grado, Magnus, Sha Samuels, El Ligero, Zack Gibson, Rampage Brown, Viper, Kenny Williams, Johnny Moss and Ashton Smith.
Jarrett and Nordholm have big plans for WOS. "This show is already being shopped internationally around the world. We are going to look at live touring, merchandise, licencing, who knows, maybe a pay-per-view in the future," said Jarrett. Jarrett hinted that stars from NOAH and AAA could be involved. He said, "It's the WOS brand being revived and you can put a number on it – 60, 70, 80% British wrestlers – they are going to be the blood of it."
Courtesy of The Daily Mirror, take a look at the interview conducted with Jarrett on Monday:
WOS WRESTLING LAUNCH -WOS LEGEND @Klondyke_Kate welcomes the return of the series & celebrates the strength of the British wrestling scene! pic.twitter.com/aRCOwbnV7n

— ITV WOS Wrestling (@WOSWrestlingITV) March 27, 2017
Advertisement