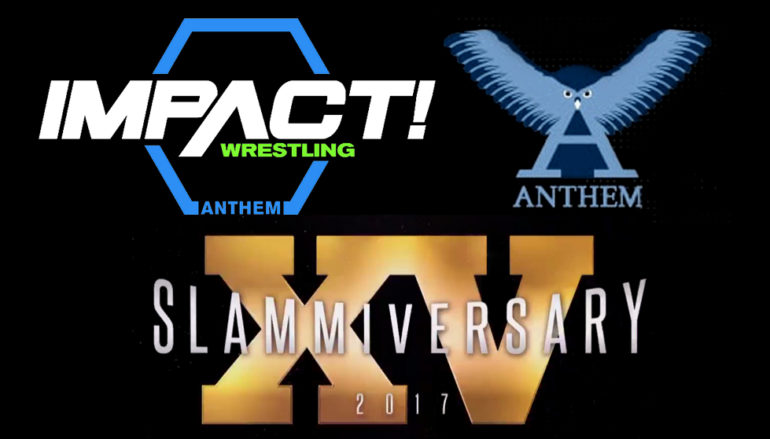 IMPACT Wrestling Acquires Global Force Wrestling
IMPACT Wrestling Acquires Global Force Wrestling
NASHVILLE | TORONTO – Anthem Wrestling Exhibitions LLC, a subsidiary of Anthem Sports & Entertainment Corp. and parent company of IMPACT Wrestling, announced today that it has entered into an agreement to acquire Global Force Entertainment, LLC d/b/a Global Force Wrestling.
Jeff Jarrett, the founder of both IMPACT Wrestling and Global Force Entertainment, will join Anthem Wrestling Exhibitions as a member of its board of managers, equity owner and Chief Creative Officer.
"We are thrilled to be joining forces with Anthem as a partner to build the business," said Karen Jarrett. "This partnership will be complementary of our strengths and bolster our capabilities to grow the IMPACT Wrestling brand. Ed Nordholm as President and Jeff Jarrett as Chief Creative Officer make a great tag team"
"We are excited by the progress we have made with IMPACT Wrestling since acquiring the business in January," said Ed Nordholm, president of Anthem Wrestling Exhibitions. "Jeff and his team have been instrumental in this success and we are pleased that we have reached an agreement on the basis of which we can combine our businesses to continue to grow. Slammiversary XV will be a fitting occasion to bring the promotions together and merge the titles under the new IMPACT combined belts. By combining our resources and talent, we can produce the best product for our global audience."
For more information, visit www.impactwrestling.com.
For More Information Contact:
Ariel Shnerer
Director, Programming & Communications
Anthem Sports & Entertainment Corp.
ashnerer@anthemse.com
Ross Forman
Head of Media Relations
IMPACT Wrestling
rforman@impactwrestling.com
About IMPACT Wrestling
IMPACT Wrestling is one of the world's largest wrestling entertainment properties, creating more than 200 hours of original content annually across television and other digital platforms. IMPACT Wrestling specializes in events, products, merchandise and music, as well as the management and promotion of professional wrestlers. The roster features such greats as Bobby Lashley, Alberto El Patron, EC3, Eddie Edwards, Davey Richards, James Storm, Low-Ki and the high-flying X-Division, plus the lovely and lethal Knockouts, including Gail Kim. Its highly successful flagship, IMPACT WRESTLING, broadcasts in more than 120 countries around the world, including Thursdays at 8 p.m. ET/PT on Pop (a joint venture of CBS Corporation and Lionsgate) in the United States, Fight Network and GameTV in Canada, Sony Six in India, Spike UK in the United Kingdom and SuperSport in Africa.
About Anthem Sports & Entertainment Corp.
Anthem Sports & Entertainment Corp. is a global sports media company with offices and studios in New York, Toronto, and Los Angeles. Anthem's portfolio includes Fight Network, the world's premier combat sports channel now broadcasting in the U.S., Canada and over 30 other countries, GameTV, featuring game shows, reality series, movies and sports available in over 9 million homes, IMPACT Wrestling, a professional wrestling promotion seen in 120 countries specializing in television programs, events, products, merchandise, music, as well as the management and promotion of professional wrestlers, and Edge Sport, an extreme and action sports network recently launched in Canada in partnership with IMG. Anthem also has a significant ownership interest in Pursuit Channel, one of the top outdoor channels in the U.S. available in 45 million homes.
Anthem also owns the Fantasy Sports Entertainment Group (FSEG), which includes Fantasy Sports Network(FNTSY), the world's first and only channel dedicated to fantasy sports, FNTSY Sports Radio Network, a 24/7 audio channel, RotoExperts.com, a leader in season-long fantasy sports news and analysis,DailyRoto.com, the most comprehensive and far-reaching daily fantasy sports website, and SportsGrid.com, a leader in general sports entertainment commentary.
Advertisement