NASCAR's Hermie Sadler Teams Up With Global Force Wrestling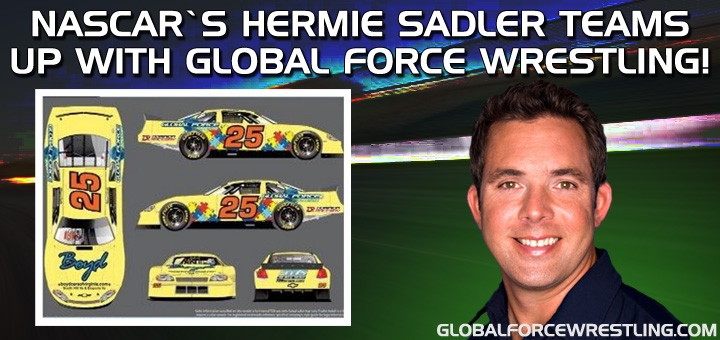 Hermie Sadler to Compete in Denny Hamlin Charity Race
HUNTERSVILLE, N.C.  (April 15, 2014) – 1993 NASCAR Nationwide Series Rookie of the Year and current Fox Sport 1 analyst Hermie Sadler will return to the track as he will compete in the Denny Hamlin Short Track Showdown.  The biggest celebrity-laden Late Model Race on asphalt is going back to its roots at South Boston Speedway (South Boston, Va.) on April 24th, as host Denny Hamlin and an all-star cast of drivers return to the race track that helped launch Hamlin's NASCAR career, among other racing stars.
Sadler, who competed at South Boston in the Late Model Division in the early 1990′s, says the race being held at the legendary Virginia short track is one of the reasons he wants to compete this year.  "I really appreciate Denny (Hamlin) and everything he does with his foundation and am honored to be invited to race, and getting to race again at South Boston Speedway makes it that much more special for me.  It's also my birthday, so I'm hoping a lot of my family and friends can come out and celebrate with me for a great cause!"
Sadler will be driving a Chevrolet prepared by H.C. and Peyton Sellers of nearby Danville, Virginia.  The car will be sponsored by Boyd Cars of Henderson, South Hill, and Emporia, Global Force Wrestling, and the all new Dominion Raceway.  Practice begins at 1 p.m., qualifying at 5:30 p.m., qualifying races at 6:30 p.m., and the 200 Lap Feature will begin at approximately 8:00 pm.  For more information, visit www.southbostonspeedway.com or call 434-572-4947.
About Boyd: Boyd Chevrolet-Buick-GMC of Emporia Va. & Boyd Honda of South Hill Va. are Southern Virginia's #1 new automobile dealerships. We have the largest selection of both new, program and pre-owned vehicles as well as the most competitive and fairest prices. Please give us an opportunity to earn your business and to prove to you that if you buy before checking with either Boyd Dealership you will simply pay more than necessary. And remember for a car buying experience that always fun, easy and enjoyable please depend on Boyd Chevrolet-Buick-GMC of Emporia Va. and Boyd Honda of South Hill Va. It's the dealerships Hermie Sadler depends on!!
About Global Force Wrestling: Global Force Wrestling is a new promotion founded by Jeff Jarrett, a 12-time world champion who has wrestled in WWE, WCW and numerous international promotions. A third-generation promoter, he also launched TNA in 2002 and drove it to international prominence. GFW promises to be an innovative brand that will be the most fan-interactive wrestling experience the fans have ever seen. You can follow its development at www.globalforcewrestling.com and on Twitter @GFWWrestling.
About Dominion Raceway: DR Entertainment, LLC limited composed of owners Steve Britt and Jerry D. Evans broke ground on Dominion Raceway, November 1, 2013. The roughly $ 19 million privately financed complex borders I-95 and is scheduled to be completed in late 2014 and open in early 2015 with racing on all three tracks – a 4/10 NASCAR Oval Track, 1/8 Mile NHRA all concrete Drag Strip, 2 Mile Road Course and an Entertainment venue that will host Concerts, Trade Shows, Drive-In movies and much more.
Advertisement