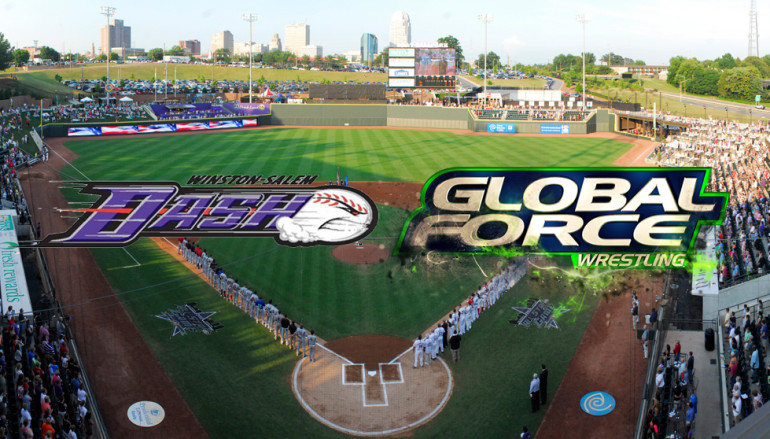 Global Force Wrestling to invade Winston-Salem on Friday, August 14
DASH TO HOST GFW WRESTLING EVENT AT BB&T BALLPARK
GLOBAL FORCE WRESTLING TO INVADE WINSTON-SALEM ON FRIDAY, AUGUST 14
WINSTON-SALEM, N.C. (June 12, 2015) – The Winston-Salem Dash and BB&T Ballpark will host a Global Force Wrestling (GFW) event at 7:30 p.m. on Friday, August 14. This event is part of GFW's MiLB Grand Slam Tour.
GFW founder Jeff Jarrett will make an appearance at BB&T Ballpark during the Dash's 7 p.m. game this Tuesday, June 16, against the Myrtle Beach Pelicans. Jarrett will throw out the ceremonial first pitch and announce the talent card for theAugust 14 event. Tuesday's contest is an All-You-Can-Eat-Night, during which fans can enjoy all the free hot dogs, hamburgers and cheeseburgers they can handle through the seventh inning. Normal ticket prices apply, and they start as low as $8.
Tickets for the GFW event will go on sale to Dash season ticket holders on Tuesday, June 23, at 10 a.m. The general public will be able to purchase tickets beginning on Wednesday, June 24, at 10 a.m.
A wrestling ring will be set up at home plate for the event on August 14. VIP tickets are available for $49 and include food and beverages from the Womble Carlyle Club and meet-and-greet opportunities with the wrestlers. Reserved seats behind the plate and above the dugouts range from $20-$40. All seats along the outfield lines are general admission for $10.
Six-time World Champion Kevin Nash will appear as a GFW Legend, while other confirmed talent includes the Killer Elite Squad (Lance Hoyt and Davey Boy Smith, Jr.) and Tessa Blanchard, the daughter of the founding member of the Four Horseman Tully Blanchard. More talent will be announced soon.
Gates will open at 5:30 p.m. for the GFW event. For more information, call the Dash at (336) 714-6877.
The Winston-Salem Dash are the Class A-Advanced minor league affiliate of the Chicago White Sox. To purchase Dash tickets and for more information, please call (336) 714-2287 or visit www.wsdash.com.
Advertisement