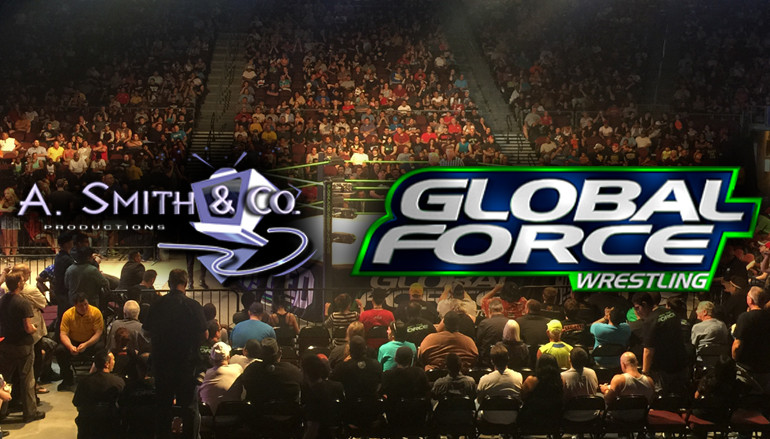 Global Force Wrestling teams up with A. Smith & Co. Productions for new wrestling format
SMITH & CO. PARTNERS WITH GLOBAL FORCE WRESTLING FOR TELEVISION TAKEDOWN
Award-Winning Production Company to Produce All-New Wrestling Show
Los Angeles, Calif. – March 2, 2016 – Reality production powerhouse A. Smith & Co. Productions is partnering with Jeff Jarrett and Global Force Wrestling to produce a television series that obliterates the conventions of televised wrestling. The show will unite the dynamic talent of Global Force Wrestling with the innovative format and event production style of A. Smith & Co. series such as "American Ninja Warrior" on NBC, its spinoff "Team Ninja Warrior" on Esquire, "Hell's Kitchen" on Fox, the upcoming "Spartan Race" on NBC and "Dunk Kings" on Turner, which both premiere this summer.
"Global Force Wrestling is a complete reinvention of the sport that will really resonate with viewers – we're taking what fans are traditionally used to seeing and flipping it on its head," said Arthur Smith, CEO of A. Smith & Co. Productions. "All sports go through transitions, and wrestling is primed for its next evolution. We're going to be adding a number of new features and elements that are going to completely change the entertainment level of the sport."
The format of traditional televised wrestling has remained largely the same since its inception. This partnership will see the creation of a new style within the sport, with all-new production elements and features that add to the scale and drama, a pool of talent that hails from across the globe, and compelling storylines that take viewers closer to their favorite wrestlers than ever before.
"There are lots of companies that produce sports and lots of companies that produce entertainment, but no producer combines the worlds of sports and entertainment like A. Smith & Co.," said Jeff Jarrett, president and CEO of Global Force Wrestling. "I can't think of a better partner to collaborate and innovate with to take the sport that I love and have been part of for decades to new heights."
With a family history of wrestling dating back three-quarters of a century and 30 years spent in the industry himself, Jeff Jarrett rose to fame in the World Wrestling Federation (WWF), where was a six-time Intercontinental champion, and one of only four wrestlers to hold both the Intercontinental and European Championship titles simultaneously. After making his mark at World Championship Wrestling (WCW), Jarrett co-founded Total Nonstop Wresting (TNA) Between the WCW, TNA, and AAA, Jarrett holds 11 world championship titles and 24 total championships.
Founded in April 2014, Global Force Wrestling (GFW) holds alliances with 14 of the biggest wrestling organizations on 5 continents. GFW creates multiple styles of wrestling under their umbrella, with expansions planned this year to North America, Europe, Australia, Japan, and Europe. Global Force Wrestling is currently expanding their alliances to include at least 4 new organizations in 2016. 
About A. Smith & Co. Productions
A. Smith & Co. Productions creates some of the most innovative, highly rated, and high-quality programming for the domestic and international television marketplace. The company has produced more than 3,000 hours of award-winning programming – with budgets totaling over one billion dollars across more than 45 broadcast and cable networks. Current productions include "Hell's Kitchen," "American Ninja Warrior," "Spartan Race," "Ellen's Design Challenge," "Unsung," "Full Throttle Saloon," "Team Ninja Warrior," "Container Homes," and "The Dunk King." Past hits include "Kitchen Nightmares," "Wizard Wars," "Conspiracy Theory with Jesse Ventura," "UFC Countdown," "Joe Rogan Questions Everything," "Paradise Hotel," "I Survived a Japanese Game Show," "The Swan," "Trading Spaces," "Pros vs. Joes," "Skating with Celebrities," and many others. For more information, visit www.asmithco.com.
About Global Force Wrestling
Global Force Wrestling is a privately owned professional wrestling and entertainment company based in Nashville, Tennessee. Founded in 2014, Global Force Wrestling is changing the wrestling and entertainment industry with an innovative and groundbreaking approach to fan interactivity, storytelling and overall entertainment to engage audiences across television, digital and social media platforms.
Advertisement