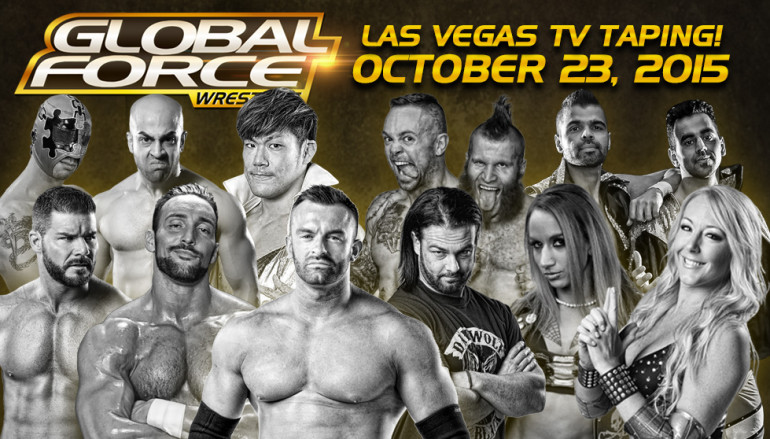 Global Force Wrestling invites fans to get Amped to 'Strike Gold'
NASHVILLE, Tenn. – With Global Force Wrestling's "Strike Gold" live show on Oct. 23 now less than two weeks away, your chance to feast your eyes on what has transpired thus far finally has arrived.
Go to GFW's YouTube page (https://www.youtube.com/gfwwrestling) and subscribe today to watch the new "Amped" videos leading up to the big event. All four GFW championships — GFW Global Championship, GFW Tag Team Championship, GFW Women's Championship and GFW NEX*GEN Championship — are on the line at the Orleans Arena on Friday, Oct. 23. Who are the athletes vying to walk out of Las Vegas with gold around their waists? What did it take to get here?
"This is what it's all about. This is what we've been building toward for 18 months now," GFW founder and CEO Jeff Jarrett said. "We've had some great athletes take part in Amped, and they've had some great matches. But now we're going to find out who is going to wear the Global Force Wrestling belts for the first time. This is historic, and I couldn't be more pumped about it."
GFW co-founder Karen Jarrett said: "I cannot wait to see who strikes gold in the women's division. The athletes in GFW are redefining women's wrestling with their hard-hitting style and athleticism."
Fans in Las Vegas will see such stars as Nick Aldis, Bobby Roode, Chris Mordetzky, P.J. Black, Seiya Sanada, Jigsaw, Sonjay Dutt, the Bollywood Boyz, Reno SCUM, Amber Gallows and Christina Von Eerie. Tickets for the event are on sale at the Orleans Arena box office and at orleansarena.com, and prices start as low as $10.
About Global Force Wrestling
Global Force Wrestling is a privately owned professional wrestling and entertainment company based in Nashville, Tennessee. Founded in 2014, Global Force Wrestling is changing the wrestling and entertainment industry with an innovative and groundbreaking approach to fan interactivity, storytelling and overall entertainment to engage audiences across television, digital and social media platforms.
#GFWAmped
Media Contact:
PR@GlobalForceWrestling.com
Advertisement