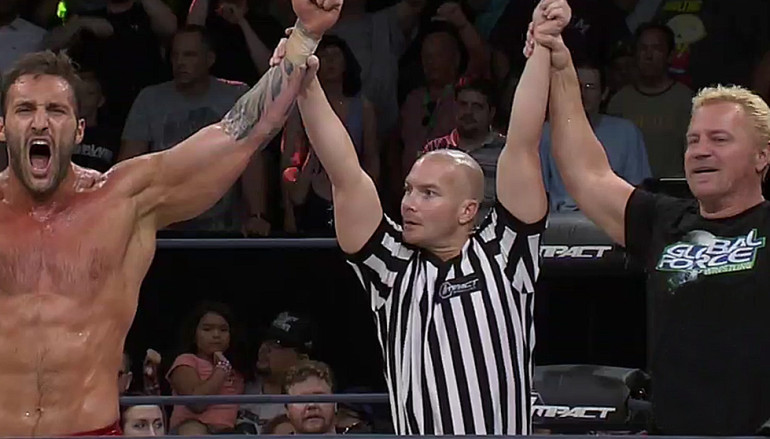 Global Force Wrestling gets the man advantage headed in to next week's Lethal Lockdown!
The war between GFW and TNA reached an all-time fever pitch this week on IMPACT Wrestling.
The Wolves regained the TNA Tag Team Titles in a hard-fought match against Trevor Lee and Brian Myers. Brian Hebner was taken out of the equation by Sonjay Dutt but TNA senior referee Earl Hebner ran down to ringside and took out Sonjay. This allowed The Wolves to double team Trevor Lee with a spike piledriver and allow them to get the pin. TNA may have come out on top but GFW had bigger fish to fry later in the night.
Team TNA's Drew Galloway faced off against Team GFW's Chris Mordetzky in a Lumberjack match to determine which team would gain the man-advantage at next week's Lethal Lockdown. Sonjay Dutt, Trevor Lee, Brian Myers and Scott D'Amore represented GFW at ringside while Lashley and The Wolves represented TNA. A huge brawl broke out late in the match as Jeff Jarrett made his way to the ring with his trademark guitar. It looked like Eric Young was going to even the odds for TNA but Young smashed Galloway over the head with the guitar! Mordetzky got the victory on Galloway to get the man-advantage for next week.
GFW is definitely in the driver's seat for Lethal Lockdown. Will Dixie Carter get complete control over IMPACT Wrestling or does Global Force Wrestling co-founder Jeff Jarrett get full control and usher in a new era for IMPACT? Find out next week at 9pm E/P on Destination America!
Catch Impact Wrestling this week:
United States – Wednesday nights at 9pm E/P (Destination America)
United Kingdom and Ireland – Sunday nights at 9pm (Challenge TV)
India – Monday night at 9pm (Sony Six)
Japan – Saturday nights (Nippon TV)
Germany – Saturday nights at 11:15pm (DMax)
France – Friday nights (MCS Sports)
Advertisement