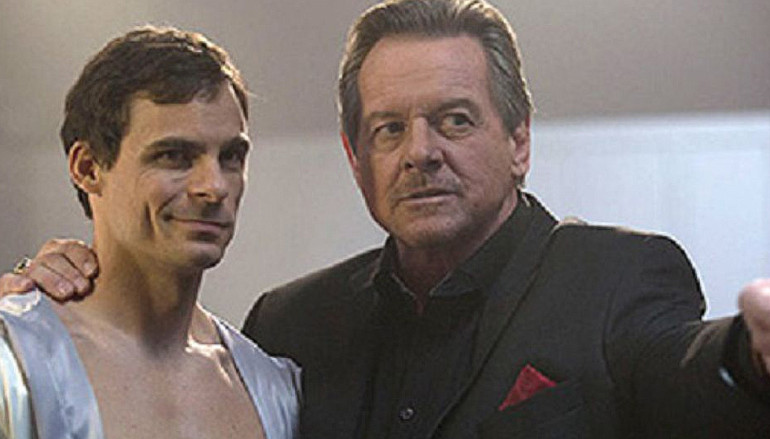 Global Force Wrestling and Ridgerock Entertainment team up to promote "Rowdy" Roddy Piper's final film "The Masked Saint"
FOR IMMEDIATE RELEASE
RIDGEROCK ENTERTAINMENT, GLOBAL FORCE WRESTLING TEAM UP TO PROMOTETHE MASKED SAINT
THE MOVIE'S STAR BRETT GRANSTAFF AND JEFF JARRETT WILL LEAD A TRIBUTE TO THE LATE PROFESSIONAL WRESTLING LEGEND"ROWDY" RODDY PIPER
NASHVILLE, Tenn. (August 12, 2015) – Ridgerock Entertainment Group and Global Force Wrestling have teamed up for  events to promote the Jan. 8, 2016, theatrical release of THE MASKED SAINT (Freestyle Releasing). The joint agreement will showcase the film's commitment to the integrity of professional wrestling and focus on family entertainment.  This coincides with the mission of GFW, which has brought new excitement and true family entertainment to the  world of professional wrestling. This exciting partnership will be kicked off during GFW's second TV taping at the Orleans Arena in Las Vegas on Friday, Aug. 21 .

"We are honored to be working with the filmmakers of THE MASKED SAINT," said Jeff Jarrett, GFW founder and CEO. "Wrestling fans around the nation will enjoy this movie not only for its action-packed content, but also for the 'fighting for justice' message it portrays. We can't wait to introduce them to this great movie.
 
"Roddy was scheduled to join us for the August show at the Orleans. In fact, I had spoken with him the day before he passed. He was a great friend and a great entertainer, and I was deeply saddened by the shocking news."
 
A family-oriented action biopic inspired by true events, THE MASKED SAINT is written by Scott Crowell and Brett Granstaff, directed by Warren P. Sonoda, produced by Cliff McDowell, co-produced by David Anselmo and executive produced by Gary Granstaff and Joe Sisto. The movie stars Brett Granstaff (Vice) as Christopher 'The Saint' Samuels, Lara Jean Chorostecki (Hannibal), Oscar and Emmy nominee Diahann Carroll ("Grey's Anatomy," White Collar) who won a Golden Globe for her performance in "Julia," Patrick McKenna ("The Red Green Show"), James Preston Rogers (Pixels) and features the late Pro Wrestling Hall of Famer "Rowdy" Roddy Piper in his last confirmed theatrical release. 
 
"We are thrilled to partner with the high-energy, fan-friendly brand of GFW," says Gary Granstaff, vice president at Ridgerock Entertainment Group. "We couldn't think of a better way to debut our movie to the millions of wrestling fans  than with  the help of Jeff Jarrett, a true wrestling legend and his organization."
 
For ticket information to the Aug. 21 show, go to: http://www.orleansarena.com/event-calendar/global-force-wrestling.
 
About Ridgerock Entertainment Group
Ridgerock Entertainment Group is an independent production company founded in 2005 with a passion to create and develop major independent films with great commercial success. Projects are developed as co-productions with co-financing partners. For more information, please visit www.ridgerockentertainment.com.
 
About THE MASKED SAINT
Starring Brett Granstaff (Vice) as Christopher 'The Saint' Samuels, THE MASKED SAINT follows the journey of former professional wrestler, Chris Samuels (Granstaff) who retires from the ring to settle down as a small town pastor. When Samuels witnesses rampant problems in the community, he decides to moonlight as a masked vigilante fighting the injustice. While facing crises at home and at the church, Samuels must evade the police and somehow reconcile his secret, violent identity with his calling as a pastor. Inspired by the life of Pastor Chris Whaley, THE MASKED SAINT is based on the book of the same name by Whaley.
 
Website: www.themaskedsaint.com
Twitter: twitter.com/TheMaskedSaint
Instagram: instagram.com/TheMaskedSaint
Facebook Page: www.facebook.com/themaskedsaint
 
About Global Force Wrestling
Global Force Wrestling is a privately owned professional wrestling and entertainment company based in Nashville, Tennessee. Founded in 2014, Global Force Wrestling is changing the wrestling and entertainment industry with an innovative and groundbreaking approach to fan interactivity, storytelling and overall entertainment to engage audiences across television, digital and social media platforms. For more information, please visit www.globalforcewrestling.com.
Advertisement