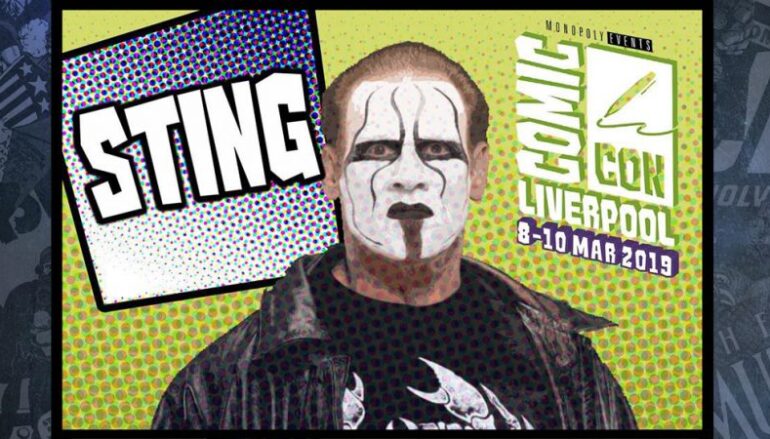 Global Force Teams With FITE TV & Monopoly Events For Comic Con: Liverpool
For Immediate Release
Contact: Michael Weber, michael.weber@fite.tv, 727-424-9938
COMIC CON: LIVERPOOL IS SET TO DEBUT ON FITE
Over 25 Q and A sessions to be featured LIVE March 9-10
New York, NY (February 26, 2019)​ – FITE TV/Global Force Entertainment and Monopoly Events announced today that the Questions and Answers session with the top pop stars from Comic Con: Liverpool will now be available for Live streaming on FITE TV Saturday March 9 and Sunday March 10. All of the action will be originating from the Exhibition Centre Liverpool, UK.
Comic Con: Liverpool will feature over 25 Q and A sessions with such stars as Eric Roberts, Teri Hatcher, Dean Cain, the wrestler Sting, Burt Young, Peter Facinelli and the stars of the Power Rangers series. The programs each day starts at 9:30am UK Time/4:30am New York time and will run consecutively throughout the day. Once a viewer purchases the event they own it and can go back and watch it as many times as they wish. The programs will be split between Saturday March 9th and Sunday March 10th. The per day price is $19.99 USD or $29.99 USD for both days of programs.
The FITE digital television network is available on many platforms including it's website www.FITE.tv, Apple and Android mobile apps, and set top apps. Roku, Apple TV, Android, and Amazon FireTV. FITE mobile apps feature the patented technology to cast the program to any connected television and is available worldwide.
"We are excited about hosting this special event on FITE. This is the first time FITE has hosted a non-combat sports event like this, but we fell that our technical delivery capabilities will make this an extremely enjoyable viewing experience for our viewers," said FITE COO Michael Weber. "We really appreciate Jeff Jarrett and GFE bringing us this innovative series of programs to FITE."
"Monopoly Events are very excited to be moving into a new dawn for the company partnering with Fite TV to bring our followers worldwide the opportunity to get their virtual front row seat at all of our events," said Monopoly Events CEO & Founder Andy Kleek.
"GFE is thrilled to partner with Monopoly, the industry leader of comic cons! Their promotion and production expertise in conjunction with FITE's position in the marketplace is a tag team combination that will produce a winning event as we launch this new vertical, said Global Force Entertainment CEO Jeff Jarrett.
About FITE TV
FITE TV is the largest independent digital streaming platform for combat sports featuring over 1,000 pay per view events per year available a-la-carte. FITE is free to join through its downloadable apps for iOS and Android devices, Apple TV, Android TV, ROKU and Amazon Fire TV. FITE streams live events from the MMA, Boxing and Pro Wrestling world to its 1.1M registered viewers. Available online at www.FITE.tv.
About Global Force Entertainment
The Nashville-based Global Force Entertainment (GFE) was founded in 2014 by WWE Hall of Famer and professional wrestling veteran Jeff Jarrett. GFE specializes in developing and acquiring events that take place in non-traditional settings featuring the stars from the pro wrestling and music worlds. For more information go to GlobalForceEntertainment.com.
Advertisement