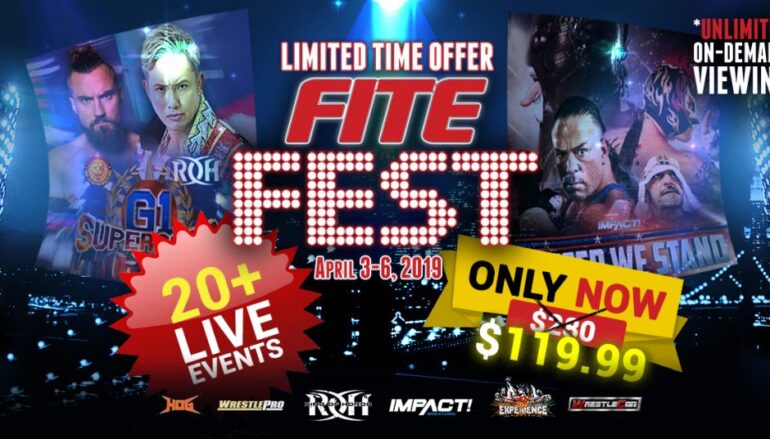 Global Force & FITE TV To Present FITE Fest April 3-6 From New York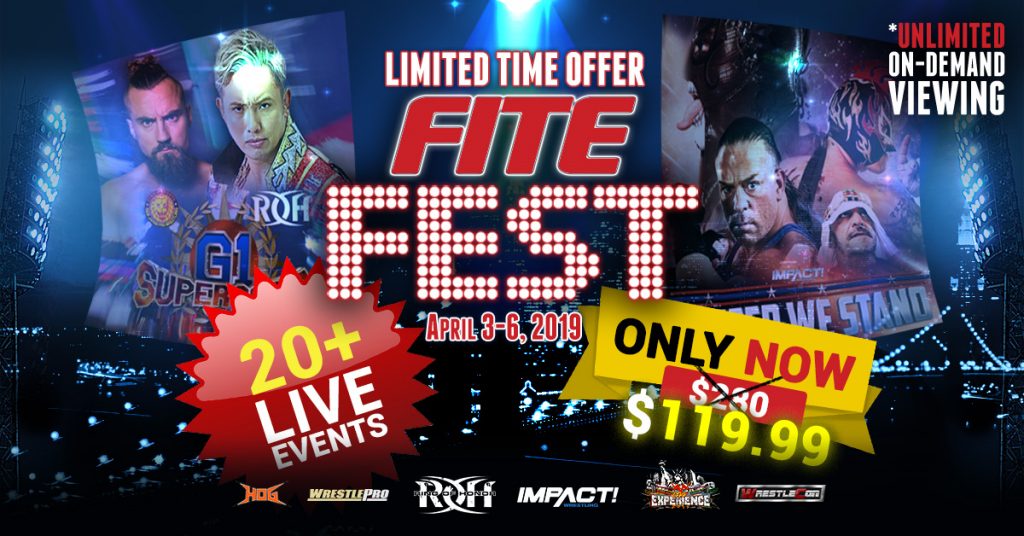 FITE Fest Line Up:
Schedule:
Wednesday, April 3
8:30pm ET – WrestlePro Does Funny Money
Thursday, April 4
4:00pm ET – Westside Extreme Wrestling
4:00pm ET – Destiny Wrestling
7:00pm ET – WrestleCon Supershow
8:00pm ET – DDT Pro Wrestling
11:00pm ET – IMPACT Wrestling – United We Stand
11:55pm ET – Kaiju Big Battel
Friday, April 5
11:00am ET – WrestleCon US vs. The World
11:00am ET – SHIMMER
3:00pm ET – Rev Pro Wrestling
3:00pm ET – WWN Super Show – Mercury Rising
4:00pm ET – Stardom Japanese Women's Wrestling
8:00pm ET – Joey Ryan's Penis Party
Saturday, April 6
11:00am ET – Pro Wrestling Revolver – Pancakes and Pile Drivers
2:00pm ET – MoreThanMania.com 2019 Wrap up Party
2:00pm ET – House of Glory: Culture Clash 19
6:30pm ET – Drags and Dropkicks
7:30pm ET – ROH G1 Supercard: New York City
7:30pm ET – WrestlePro vs. CZW
---
For Immediate Release
Contact: Michael Weber, michael.weber@fite.tv, 727-424-9938
Over 20 Live Pro Wrestling Events Set for FITE Fest April 3–6 from New York
FITE collaborates with ROH Wrestling, Impact Wrestling, WrestleCon, WWN, WrestlePro and House of Glory to offer viewers a special FITE Fest package
New York, NY (February 27, 2019)​ – During the first weekend of April this year New York City will host the biggest pro wrestling weekend of the year and FITE will be there to give viewers a front row seat with the debut of FITE Fest.
FITE Fest will feature over 20 live telecasts starting with Wrestle Pro on Wednesday, April 3rd and includes mega events like ROH/NJPW G1 Supercard, Impact Wrestling: United We Stand, WWN's Super Show – Mercury Rising, Wrestle Con's Super Show and House of Glory's Culture Clash 2019. All of this and more with a pay per view value of over $280 for a limited time only at a price of $119.99. All programs are currently available for pre-sale on an event by event basis, but this special offer to enjoy the entire FITE Fest line up is only available through March 11th. The complete lineup is available at www.FITE.tv.
The FITE digital television network is available on all major platforms including it's website www.FITE.tv, Apple and Android mobile apps, Roku, Apple TV, Android TV, and Amazon FireTV. FITE mobile apps feature the patented technology to cast the program to any connected television and is available worldwide.
"The first weekend of April is the biggest weekend each year for the world of pro wrestling and this year is no exception. We're proud to present all of the live action throughout the weekend with FITE Fest," said FITE COO Michael Weber. "This would not have been possible without the great collaboration from our partners at ROH, Impact Wrestling, WrestleCon, WWN, WrestlePro and House of Glory resulting in this unique opportunity for the fans worldwide to easily enjoy the best pro wrestling shows."
About FITE TV
FITE TV is the largest independent digital streaming platform for combat sports featuring over 1,000 pay per view events per year available a-la-carte. FITE is free to join through its downloadable apps for iOS and Android devices, Apple TV, Android TV, ROKU and Amazon Fire TV. FITE streams live events from the MMA, Boxing and Pro Wrestling world to its 1.1M registered viewers. Available online at www.FITE.tv.
Advertisement