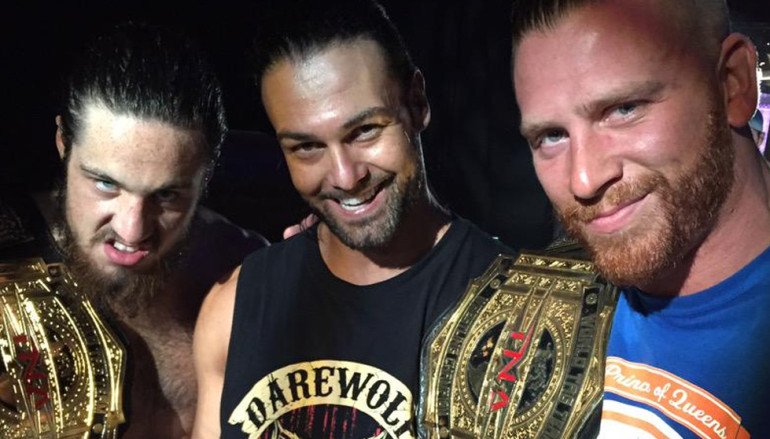 Trevor Lee and Brian Myers win the TNA tag team titles + winner take all match announced!
Global Force Wrestling founders Jeff and Karen Jarrett and members of the GFW roster kicked off this week's edition of IMPACT WRESTLING. Jeff Jarrett declared a hostile takeover and he said that he's in the process of building another wrestling empire and GFW is right in the middle of it. Jarrett noted that he still has ownership stake in TNA so there is nothing anyone can do about it. Chris Modetzky proclaimed that he is bigger and badder than anyone in the TNA locker room. Mordetzky issued a challenge that was answered by TNA's Bobby Lashley and this led to the first match of the night.
The two powerhouses clashed in the ring but unfortunately we didn't get a conclusion because members of the GFW and TNA roster came down to the ring as all hell broke loose. GFW got the upper hand on The Wolves and Bobby Lashley but Jeff Jarrett wasn't done. Jarrett called Karen Jarrett back down to the ring to reveal a big surprise for TNA. Karen brought down the Feast Or Fired tag team title briefcase that was never cashed in by Magnus. Jeff Jarrett announced that they would be cashing in the tag titles. Earl Hebner refused to allow the briefcase to be cashed in so Jarrett took out Hebner as Scott D'Amore brought referee Brian Stifler to the ring.
In a shocking turn of events, Global Force Wrestling's Trevor Lee and Brian Myers defeated The Wolves for the TNA World Tag Team Titles thanks to outside interference from Sonjay Dutt and a briefcase off the skull off of Eddie Edwards.
"The It Factor" challenged "Daredwolf" PJ Black for the King Of The Mountain Championship. GFW seemed to have things in hand until Drew Galloway evened things up for TNA and took out Sonjay Dutt at ringside. Bobby Roode hit the Roode Bomb and defeated PJ Black to become the new King Of The Mountain Champion.
Jeff Jarrett, Karen Jarrett Chris Mordetzky, Lei'D Tapa, Royal Red, Scott D'Amore, Brian Myers and Trevor Lee came back out to the ring. Jarrett said that they would not leave the ring until he gets back what Dixie Carter stole from him so that prompted Dixie Carter to come out and say that Jeff is all about himself. Jarrett said that the days of Dixie taking his power are over. Dixie made an offer that Jarrett could not refuse… "1 fight, 1 match, winner take all." Lashley, Drew Galloway and The Wolves all came out to stand beside Dixie Carter. So it's now official. There will be one match that will decide if Dixie Carter leaves TNA or Jeff Jarrett takes over TNA for good.
The match will take place in 2 weeks on IMPACT WRESTLING and it will be a part of Lethal Lockdown!
Advertisement