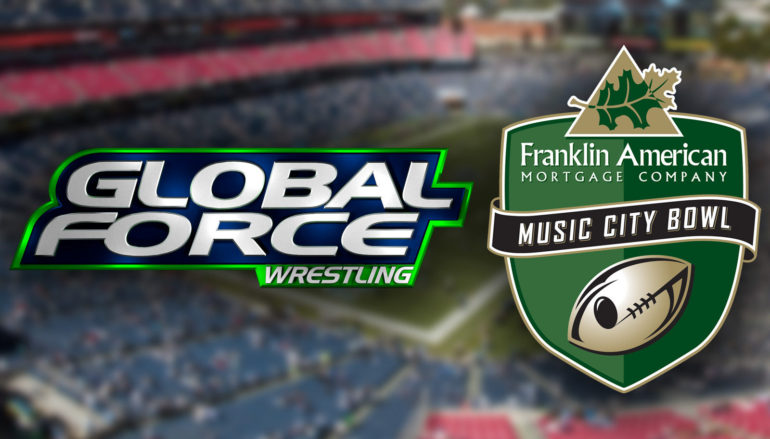 GFW to partner with Franklin American Mortgage Music City Bowl
NASHVILLE, Tenn. – Global Force Wrestling will become the first-ever wrestling promotion to partner with a college football bowl game when it provides a night of entertainment for the teams at the Franklin American Mortgage Music City Bowl.
At this private event, players, coaches and team officials will have a chance for a meet and greet with GFW co-founders Jeff and Karen Jarrett, Hall of Famer Scott Hall and other wrestlers and then settle in for an exciting card of wrestling action.
"Give all of the credit to the folks at the Franklin American Mortgage Music City Bowl," Jeff Jarrett said. "They approached Global Force with the idea of giving the players something different than any other bowl game, and I think it's a perfect fit. Males 18 to 24 are a huge part of our demographic, and we'll be as hyped to put on a great show as they will be to see one.
"There are a lot of ties between football and wrestling. So many great football players at the collegiate level have come into the ring and been successful when they put the cleats away. Who knows, we might have a future wrestling superstar in the crowd that night."
Franklin American Mortgage Music City Bowl President and CEO Scott Ramsey said the game is always looking to provide entertaining and memorable events for the teams that travel to Nashville, and this is just another step.
"This is innovative and something that will be memorable for the players and we are excited about the partnership with Global Force Wrestling," Ramsey said. "Jeff Jarrett is a Middle Tennessee native, and we know he has been in the wrestling business for decades. We are confident that this event will be one of the highlights of a great week of events that culminates with the 19th annual Franklin American Mortgage Music City Bowl on Dec. 30."
Advertisement