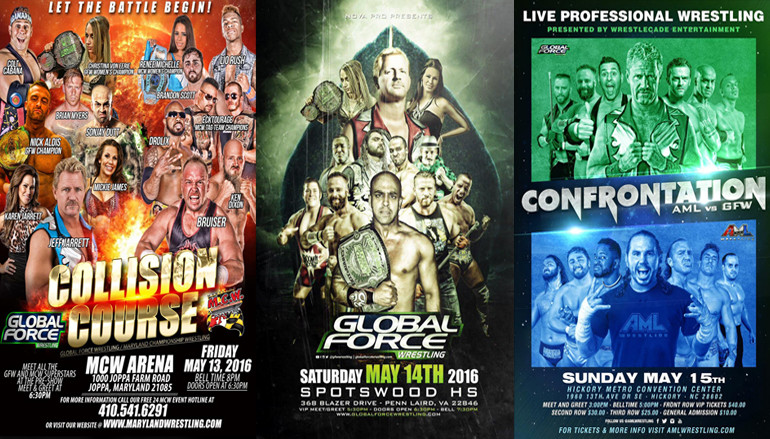 GFW invades the Mid-Atlantic area in May!
Get ready! Global Force Wrestling invades the Mid-Atlantic with 3 action-packed shows from May 13th to May 15th! Catch the athletes of Global Force Wrestling live!
The weekend kicks off just outside of Baltimore in Joppa, Maryland on 5/13. Then, we head to Penn Laird, Virgina and we close out the weekend in Hickory, North Carolina where it's AML Wrestling vs. GFW Wrestling!
5/13 – Joppa, MD – click here for tickets!
Presented by GFW and MCW
MCW Arena
1000 Joppa Farm Road – Joppa, MD 21085
Meet and Greet – 6:30pm
Belltime – 8:00pm
Doors Open – 6:30PM
5/14 – Penn Laird, VA – click here for tickets!
Presented by GFW and MCW
Sportswood HS
368 Blazer Drive – Penn Laird, VA 22846
VIP Meet/Greet – 5:30pm
Doors Open – 6:30pm
Belltime – 7:30pm
5/15 – Hickory, NC – click here for tickets!
Presented by GFW and AML Wrestling
Hickory Metro Convention Center
1960 13th Ave Dr SE – Hickory, NC 28602
Meet and Greet – 3:00pm
Belltime – 5:00pm
Front Row VIP Tickets – $40.00
Second Row – $30.00
Third Row – $25.00
General Admission – $10.00
Advertisement