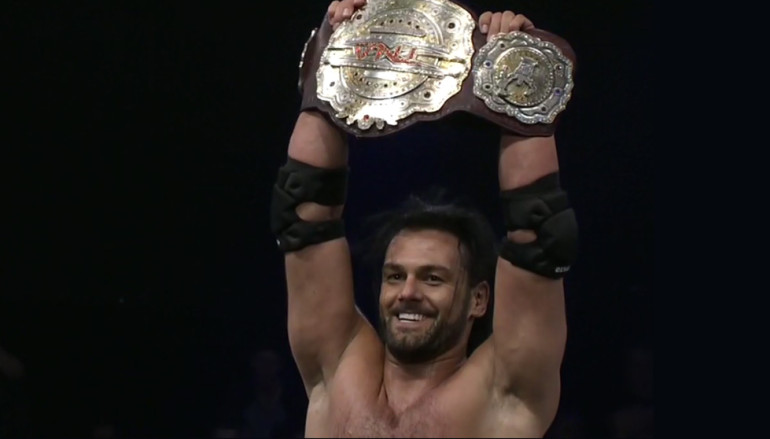 First-ever GFW vs. TNA supershow is in the books…PJ Black becomes the new KOTM champion
The athletes of Global Force Wrestling were on Impact Wrestling this week on Destination America for the first-ever IMPACT supershow that pitted GFW vs. TNA.
Things got heated right off the bat when Jeff Jarrett was interrupted in the ring by TNA's Eric Young. Jarrett told Young that he is building the "best damn brand in the world" and he is no longer an active wrestler. As Jarrett left the ring, Young attacked him. Wrestlers and GFW and TNA rushed to the ring and chaos broke out between both companies.
Lei'D Tapa and Awesome Kong may have to settle their feud at another time because both women were counted out as they fought at ringside in their first-ever encounter. Kong would later slam Tapa on the stage so it is a safe bet to assume that Tapa will look for her revenge at some point.
In the second GFW vs. TNA bout of the evening, GFW's Brian Myers and Trevor Lee took on The Wolves (Davey Richards and Eddie Edwards). Trevor Lee and Brian Myers held their own and looked good but the The Wolves got the win for TNA.
Tigre Uno and Sonjay Dutt squared off in the third bout of the night between GFW and TNA. Sonjay and Tigre had a good back and forth match but Tigre Uno was better competitor on this night. Tigre Uno's win put TNA up 2-0 for the night.
The King of the Mountain match capped off the night. Robbie E, Eric Young, and Bobby Lashley represented TNA. Chris Mordetzky and PJ Black represented GFW. It only took a few seconds for Lashley to score a pinfall over Eric Young and qualify. Mordetzky was pinned by Black shortly thereafter so Mordetzky and Young would end up spending 2 minutes in the penalty box at the same time. It wasn't too long before Robbie E would score a pinfall to qualify. Lashley scored a pinfall over Robbie E to qualify as Mordetzky and Young got back in the match. Mordetzky would become eligible to hang the KOTM championship by scoring a pinfall over Eric Young. Young would qualify after hitting a devastating piledriver on the steel steps to Robbie E and scoring a pinfall. TNA may have won the battle in the prior singles matches but GFW reigned supreme at the end of the night as PJ Black fought off Eric Young and Bobby Lashley and climbed the ladder to hang the KOTM title.
PJ Black is the new King of the Mountain champion.
Advertisement