Video: Jarrett Joins AJ Styles & The Bullet Club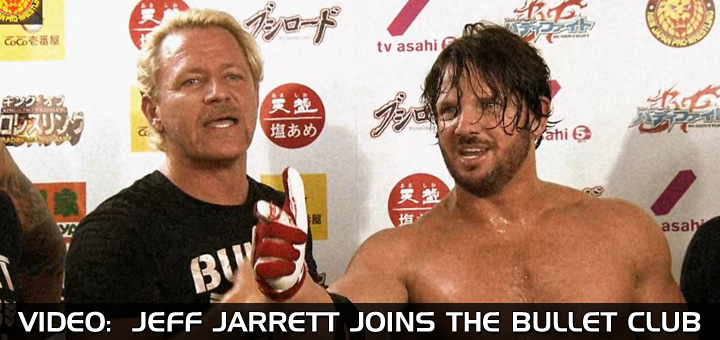 On August, 10, 2014, Global Force Wrestling president, Jeff Jarrett, shocked fans of New Japan Pro Wrestling and provided a huge international wrestling headline for 2014.
JEFF JARRETT JOINS THE BULLET CLUB AND SHOCKS NEW JAPAN PRO WRESTLING
Two weeks after the shocking turn of events, NJPW fans are still scratching their heads wondering what caused Jarrett to do what he did and what his actions mean to the GFW/NJPW partnership.
"I am still very excited about the future of Global Force Wrestling's agreement with New Japan Pro Wrestling. This will be a mutually beneficial partnership for both organizations. And wrestling fans around the globe." Jarrett said from his offices in Nashville, Tennessee.
Jarrett continued, "At the same time, I am a business man; and as a business man, it made all the sense in the world to align with the most powerful group in NJPW, the Bullet Club. They have all the gold, and with that gold comes power; something I am very familiar with!"
After joining the Bullet Club, Jarret is once again aligned with IWGP Heavyweight Champion, AJ Styles. "Jeff Jarrett is a very smart man! Jeff joining the Bullet Club was another brilliant decision on his part. Jeff and I have been very successful together in the past and we will continue to be very successful together in the future. The Bullet Club can't be stopped. We're number one with a bullet!"
When reached for comment NJPW Chairman, Naoki Sugabayashi, commented, "Were we surprised by Jarrett joining the Bullet Club? Yes, we were very surprised. Do we understand Jeff's decision? No, we do not. However, the NJPW/GFW partnership is something that we believe in fully, and we look forward to showcasing NJPW to American wrestling fans, and showcasing GFW to Japanese wrestling fans."
Hiroshi Tanahashi was the man at the center of the Bullet Club's vicious attack at the Seibu Dome. Tanahashi reacted to Jarrett joining the Bullet Club by saying, "They ruined a huge moment for me at the G1 Climax Finals. The Bullet Club was a powerful force prior to Jeff Jarrett jumping on board. Now, they are even stronger. However, I have never backed down from a challenge; no matter how big or how strong. Quit is not in my vocabulary. I will get revenge on each member of the Bullet Club, if it's the last thing I do!"
Stay with GlobalForceWrestling.com for the latest on this and other breaking news stories.
Advertisement