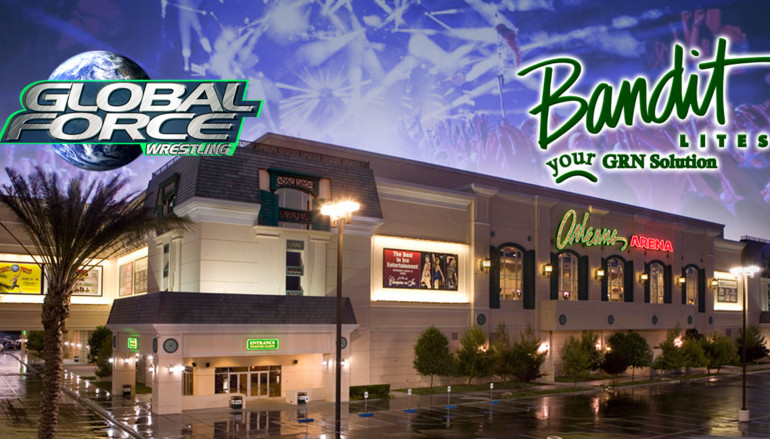 Bandit Lites and Global Force Wrestling Join Forces
For Immediate Release
April 7, 2015
Global Force Wrestling to partner with Bandit Lites, the global leader in event and concert lighting
NASHVILLE, Tenn. – When Global Force Wrestling brings its fresh, high-energy, fan-friendly brand to Las Vegas for the first taping of its broadcast shows on July 24 at the Orleans Arena, Bandit Lites will light the way.
Bandit, a 22-time winner of lighting company of the year, is the worldwide leader in event and concert lighting. Born in the 1960s in Kingsport, Tennessee, Bandit is headquartered in Knoxville and has offices in Nashville, San Francisco, London, Hong Kong and Taiwan. The company has done all of the lighting for Garth Brooks concerts and specials for years, as well as hundreds of other musical acts including Aerosmith, Queen, Van Halen, Jimmy Buffett, Jason Aldean, Toby Keith, Miranda Lambert and Keith Urban. Bandit has lit special events for President Clinton, the NFL and the Make A Wish Foundation, among myriad others.
Bandit also is no stranger to combat sports, having done lighting for the UFC, WCW and WWE, including 16 Wrestlemanias.
"Bandit Lites is innovative, committed and the worldwide leader in its field," said Jeff Jarrett, GFW founder and CEO. "Those are traits that make it a perfect partner for Global Force Wrestling as it embarks on its journey to capture the hearts and imaginations of fans around the world."
GFW's first three shows at the Orleans Arena will take place on Friday, July 24; Friday, Aug. 21 and Friday, Oct. 23.
"We're looking forward to bringing the best production values in all of entertainment to GFW at the Orleans Arena in Las Vegas," said Michael T. Strickland, founder and CEO of Bandit.
About Global Force Wrestling
Global Force Wrestling is a privately owned professional wrestling and entertainment company based in Nashville, Tennessee. Founded in 2014, Global Force Wrestling is changing the wrestling and entertainment industry with an innovative and groundbreaking approach to fan interactivity, storytelling and overall entertainment to engage audiences across television, digital and social media platforms.
About Bandit Lites
Bandit Lites is a global leader in the entertainment lighting marketplace. From touring productions to fixed installations, Bandit Lites has a full staff of highly trained professionals to deal with all types of lighting needs.Bandit's global presence will insure seamless transitions no matter where your next show takes you.
###
Media Contacts:
PR@GlobalForceWrestling.com
Advertisement