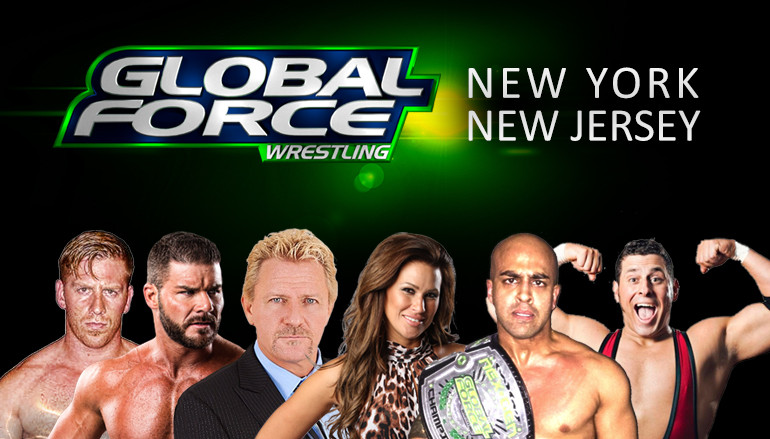 Global Force Wrestling tickets available now for shows in New York and New Jersey!
12/22/15 UPDATE
TICKETS ARE AVAILABLE NOW!
Poughkeepsie, NY – click here for tickets!
Rahway, NJ – click here for tickets!
---
For Immediate Release
Dec. 9, 2015
Global Force Wrestling to invade the Northeast
NASHVILLE, Tenn. – Global Force Wrestling will break new ground in 2016 as founder and CEO Jeff Jarrett brings his promotion to the Northeast, a hotbed of pro wrestling, for the first time to open the New Year.
It all kicks off with a Jan. 22 show at legendary wrestling venue the Mid-Hudson Civic Center in Poughkeepsie, New York.
"Double J made his first-ever appearance in the Northeast at this venue in 1993," said Paul Lloyd, president of the MHCC. "We are thrilled that GFW has chosen Poughkeepsie to be a part of its first tour of the area and we're sure the rabid wrestling fans in this area will be eager to join the force."
The next night, Jan. 23, will feature a co promotion between GFW and Pro Wrestling Syndicate from the Rahway (New Jersey) Rec Center. The card will include matches between GFW and PWS stars.
"We're honored to be working with GFW," PWS owner Pat Buck said. "Fans are going to see a great combination of global talent mixed with the stars of PWS."
GFW NEX*GEN champion Sonjay Dutt, who took the belt from P.J. Black at Showcase of Champions in Winston-Salem, North Carolina, in November, will defend his title, and stars such as GFW's Jeff and Karen Jarrett and TNA's Bobby Roode are scheduled to appear. More stars will be announced in the coming weeks. Check www.globalforcewrestling.com or @GFWWrestling on Twitter.
"This is a great way to kick off what will be a monumental year for GFW," said Jeff Jarrett, who also will wrestle on both shows. "We have promised from the outset to be the most interactive brand in professional wrestling, and we were inundated with requests from fans in New York and New Jersey to bring Global Force to the Northeast."
Tickets for both events go on sale on Friday. For the Poughkeepsie card, you can go to the Mid-Hudson Civic Center box office or any Ticketmaster location, charge-by-phone 1-800-745-3000, or online at www.ticketmaster.com. Tickets to the Jan. 23 event are available through the PayPal link at www.prowrestlingsyndicate.com.
About Global Force Wrestling
Global Force Wrestling is a privately owned professional wrestling and entertainment company based in Nashville, Tennessee. Founded in 2014, Global Force Wrestling is changing the wrestling and entertainment industry with an innovative and groundbreaking approach to fan interactivity, storytelling and overall entertainment to engage audiences across television, digital and social media platforms.
#GFW2016
Media Contact:
PR@GlobalForceWrestling.com
Advertisement